VIRTUAL CAMPUS INTERVIEW OF MCKINLEY & RICE CREATIVITY PVT. LTD.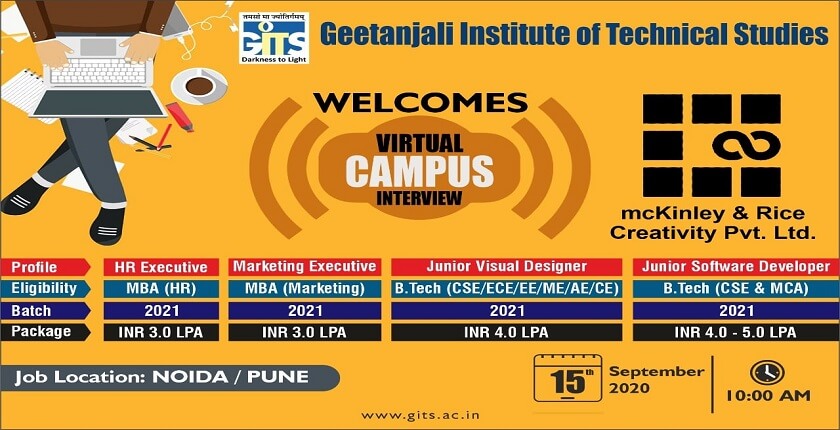 Geetanjali Institute of Technical Studies is organizing the Virtual Campus Interview with McKinley & Rice For our B.Tech (All Branches)/MBA & MCA 2021 Batch students on 15th September 2020 at 10.00 AM @ Package INR 3.0 to 5.0 LPA for Multiple Technical & Management Profiles.
Company Profile: McKinley & Rice Creativity Pvt. Ltd. originally began as a tech outsourcing consultancy firm 5 years ago, when founder Felix J.W. Kim and associates discovered an increase in interest regarding overseas outsourcing while working at a law firm in Seoul, South Korea. In November 2018, McKinley & Rice launched its own in-house software development team in Noida, India, as well as offices in California, U.S.A intending to make design and tech accessible to everyone by breaking down borders. In January 2020, the company expanded its footprint with an office in Pune to further enhance is capabilities.
Marketing Executive: 3 LPA
Eligibility: MBA (Marketing) 2021 Batch
HR Executive: 3 LPA
Eligibility: MBA (HR) 2021 Batch
Junior Software Developer: 4-5 LPA
Eligibility: B.Tech (CSE & MCA) 2021 Batch
Junior Visual Designer: 4 LPA
Eligibility: B.Tech (CSE/ECE/EE/ME/AE/CE) 2021 Batch
Perks & Privileges :- INR 15,000 to INR 25,000 during the Probation Period of 4 months
September 2023
M
T
W
T
F
S
S
1
2
3
4
5
6
7
8
9
10
11
12
13
14
15
16
17
18
19
20
21
22
23
24
25
26
27
28
29
30