ORIENTATION DAY 2023 CELEBRATION AT GITS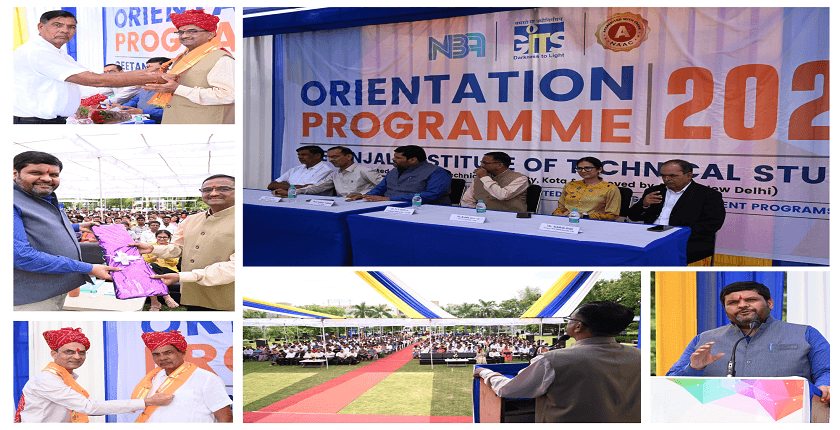 GITS organised the Orientation Day celebration on 17th August 2023 to welcome the new students of BTech, MBA & MCA on a grand scale inviting the parents, guardians and freshers. The event aimed to introduce students to the institute's academic plan, activities, and infrastructure to smoothly navigate their way on their new academic journey and help them find success and thrive academically, socially and personally throughout their college career.
I got an opportunity to welcome the students and assured the parents that it was the responsibility of the entire GITS family to provide not just academic knowledge but to immaculately forge the career path of the students for professional success. I have discussed and enlightened the students about the Industry-ready and Student-ready initiatives developed by the institute that are designed to achieve the triple yardstick of Education, Employment and Entrepreneurship for ensured success in the ever-evolving world.
The Chief Guest, Prof Gourav Vallabh, XLRI, in his address said that these years in college are vital in not just shaping the careers but also defining success or failure. He stressed the importance of developing skills like creativity, problem-solving, and emotional intelligence during college years for future success.
Dr. P.K. Jain, Director – MBA, conveyed that the students harbouring innumerable dreams are welcomed in the college and the faculty is dedicated to helping students realize their dreams. He added that we respect the energy and enthusiasm of the young aspirants and implore them to put their best efforts for guaranteed success.
The event included captivating entertainment programs, followed by a presentation detailing the array of courses and acquainting students with various departments and facilities.
December 2023
M
T
W
T
F
S
S
1
2
3
4
5
6
7
8
9
10
11
12
13
14
15
16
17
18
19
20
21
22
23
24
25
26
27
28
29
30
31