HR SUMMIT – 2020 ON EMPOWERING YOUTH: RESKILLING AND UPSKILLING
March 14, 2020

Posted by:

admin

Category:

MBA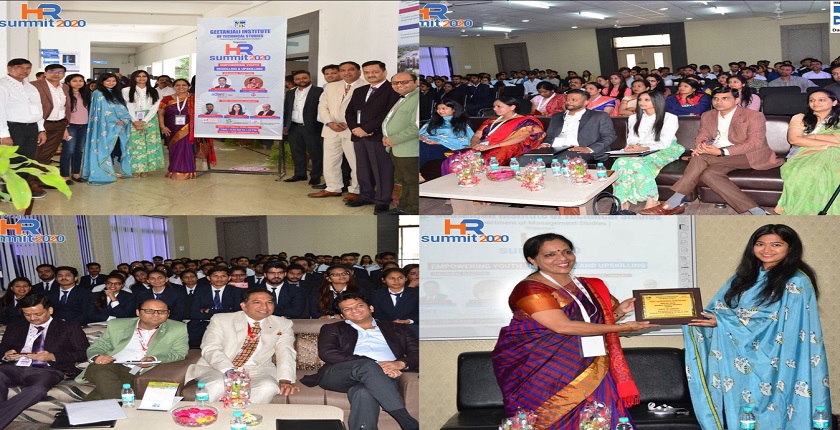 Department of  Management Studies, GITS organized an HR Summit on March 14, 2020 on "Empowering Youth: Reskilling and Upskilling".  The event was inaugurated by performing the Lamp-lighting ceremony to invoke the blessings of Goddess Saraswati. In his welcome speech, Dr. Vikas Mishra, Director-GITS, cordially invited the esteemed guests from the industry and academia and introduced the topic to the students advising to them to "Learn, Unlearn and Relearn".
Shri Prateem Tamboli, CEO of Geetanjali Medical College and Hospital, motivated the students to take advantage of the ecosystem for learning new things on a regular basis and to never stop the learning process. He also advised students to improve on their listening skills.
The Guest of Honour, Prof. Rajeshwari Narendran, HOD-Business Administration and Director – MHRM, MLSU conducted a very engaging and interactive session, instructing the audience that before up-skilling and re-skilling, first there is a need to identify the inherent skills we already possess. She stated that, 'Once you are successful in identification of right skill, then only you will be able to improvise that skill as per the requirements of environment.' She said that- youthfulness is not about age, it is about the self-determination which keeps a person young even at 105 years of age. She demonstrated that empowerment can never be taught or handed-over; it can be done only by the hard work.
After the inaugural ceremony, a Panel discussion wan conducted on the theme for which the panellists were: Dr. Kirti Mishra, Assistant Professor- IIM Udaipur, Mr. Arijit Basu, Assistant Vice President- Business HR and TMOD, Wonder Cement, and Mr. Rajeev Pandya, General Manager- Human Resource Business Partner, GMCH.  Dr. Kirti Mishra indicated through her research data and statistical analysis the skill – gap existing in Indian corporate sector, she also emphasised on the up-gradation of skills so that the students can be absorbed by the industries.  Mr. Arijit Basu discussed the development of Indian Case Studies so that the students can understand the Indian market in a more efficient and effective manner.
According to Mr. Rajeev Pandya, there is an urgent need of Industry-Academia partnership to prepare the students as per the need of industry. The moderator Dr. Dharmesh Motwani also asked the panellists to discuss the ways for upskilling and reskilling in the industry –academic context. The major issues discussed were the factors affecting the need of upskilling and reskilling, the role of HR and management in upskilling and reskilling as well the role of artificial intelligence in upskilling and reskilling. After the panel discussion, an Open House was conducted wherein the panellists answerwed the queries raised by the students; followed by a Valedictory and vote of thanks presented by Dr. Dharmesh Motwani.
The summit closed with the singing of the national anthem.
September 2023
M
T
W
T
F
S
S
1
2
3
4
5
6
7
8
9
10
11
12
13
14
15
16
17
18
19
20
21
22
23
24
25
26
27
28
29
30