VISHWAKARMA JAYANTI CELEBRATION AT GITS
September 17, 2018

Posted by:

admin

Category:

ME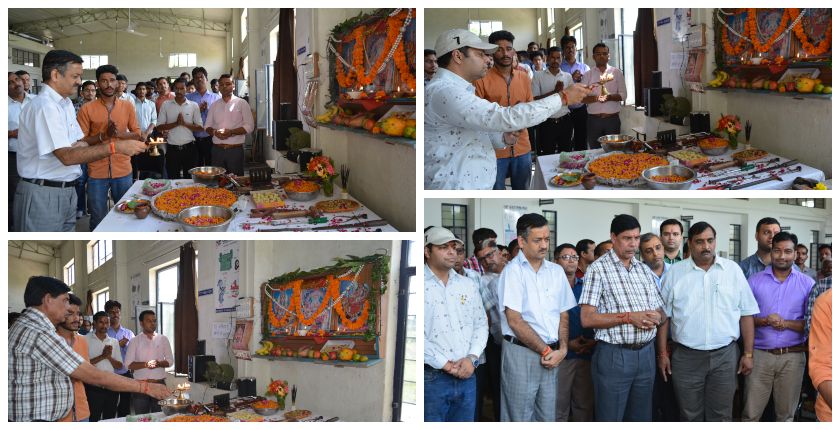 Mechanical Engineering Department of Geetanjali Institute of Technical Studies celebrated Vishwakarma Jayanti on 17th September 2018. An auspicious moment of prayer to pay obeisance to Lord Vishwakarma, who is regarded as the god of architecture and engineering, was organised in the workshop of Mechanical Engineering department at 1:30 PM.
It was a resolution time for students and faculty to dedicate themselves to the cause of advancement of technology and gain divine inspiration for creating novel products. According to Hindu mythology Lord Vishwakarma is the divine draftsman of the whole universe and the official builder of all the gods' palaces and the designer of all celestial vehicles and weapons. Load Vishwakarma has four hands, wears a crown, loads of gold jewellery, and holds a water-pot, a book, a noose and craftsman's tools in his hands and is described as the God with multi-dimensional vision and supreme strength by Rig Veda.
Occasion was attended by Director GITS Prof Vikas Misra, Finance Controller – Shri. B L Jangir, Dean Academics – Prof. P C Bapna, Dean Student Affairs – Prof. Rajeev Mathur, Dean Testing and Consultancy – Prof. Manish Verma, Head Computer Science Engineering – Prof. Amit Sinhal, Head MCA – Prof. Hemant Sau, Shri Arvind Singh Pemawat – Training and Placement Officer, Head Mechanical and Automobile – Prof. Deepak Paliwal along with all staff members and students from various departments.
December 2023
M
T
W
T
F
S
S
1
2
3
4
5
6
7
8
9
10
11
12
13
14
15
16
17
18
19
20
21
22
23
24
25
26
27
28
29
30
31