UNPRECEDENTED SUCCESS OF THE "SCI-TECH PRO CAFE 2016" HELD @ GITS
October 20, 2016

Posted by:

admin

Category:

News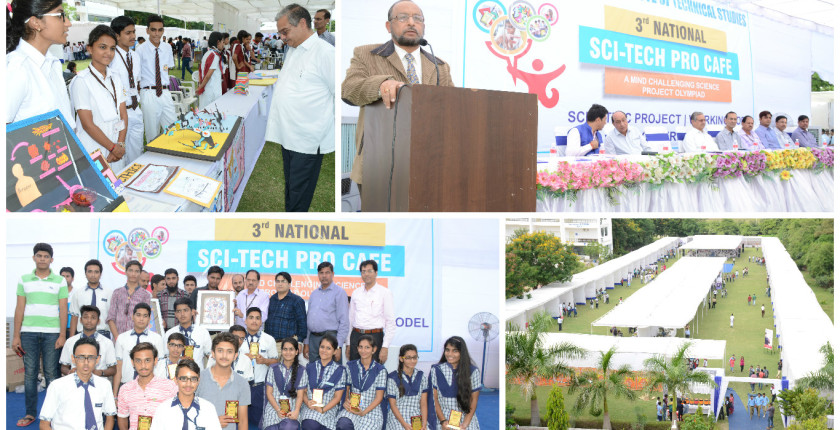 Geetanjali  Institute of Technical Studies successfully  organized its annual science Tech Fair, SCI TECH Pro- Cafe 2016 on 15th October 2016, which saw an unprecedented  participation of  school students from  various parts of the country.The convener of the Fair, Prof. Rajeev Mathur, Dean Student Affairs & HoD ECE emphasised the importance of innovation and project development to enhance the knowledge and skill among the youth today.  The inclusion of innovation – education in engineering technology academic programming not only enhances student learning, but also drives business growth, and advances university engagement  to develop solutions for real- life problems.
The Chief Guest, Prof. B.L. Choudhary (Chairman, Rajasthan Board of Secondary Education) inaugurated the Sci Tech Pro Cafe 2016 and with other dignitaries, Shri.  Ketan Bhatt (Vice President, HR, Secure Meter) , Shri S.R. Pandey (Senior Vice President, Udaipur Cement) ,  and Shri. N.K. Sharma (Vice President – HR) motivated the participants and encouraged the young engineers to engage themselves in industry oriented projects.
The dignitaries congratulated and acknowledged the efforts of GITS, its Principal, Dr. P.K. Mehta and Finance Controller, Mr. B.L. Jangid  in providing an opportunity to the young  ignited minds to display their talent and providing quality education and promoting lifelong learning opportunities.
The fair provided a platform to exhibit about 400 projects developed by more than 700 participants from school students who showcased their innate creativity and innovative skills and was attended by numerous technology experts and Industrialists. The projects were evaluated by Shri. Pankaj Singhal (Asst. VP Wonder Cement) and Sh. Ashish Ajmera (Director, RSDL- Udaipur) and a total of  Two lakh rupees handed out as prize money with Rs. 31,000/-, Rs. 21,000/- and 11,000/- awarded to the first, second and third respectively.
In the category of Working – Model the winners were:
Adarsh Vidya Mandir SS School (Sirohi),
Bharti Vidya Bhawan (Banswara) and
Aditya Birla Higher Sec School (Khor Neemuch).
In the Science project;  Mahrana Mewar Public School (Udaipur), Central Academy (Pali), St. Teresa SS School (Udaipur) won the  first second third  positions respectively.
In Poster design category, St. Mary SS School (Udaipur), B S Memorial School (Abu Road), GNPS (Udaipur) were the winners.
UNPRECEDENTED SUCCESS OF THE "SCI-TECH PRO CAFE 2016" HELD @ GITS