SUMMER SCHOOL TRAINING ON BENTLY CERTIFIED STAAD PRO & STAAD FOUNDATION – CIVIL
May 15, 2019

Posted by:

admin

Category:

CE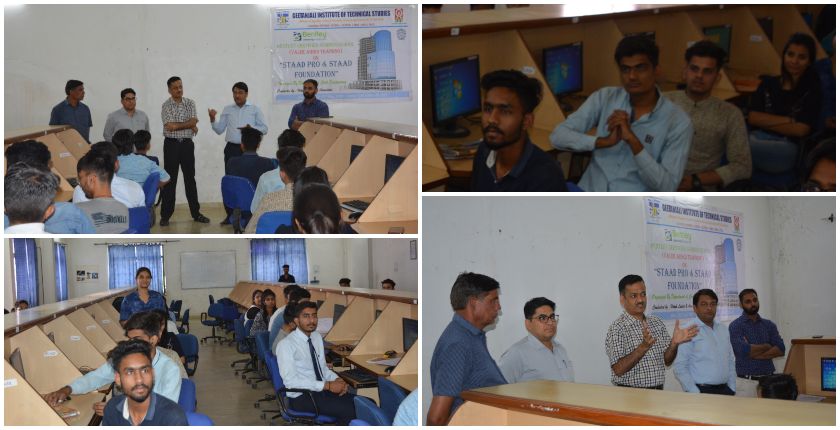 Training on STAAD Pro and STAAD Foundation that was conducted by Hitesh Lahoti & Associate, Pune. The training was conducted at the GITS premises and the whole session lasted for 8 days. The training was organized as to improve the technical skills of students of 3rd year (Civil Engineering). The main objective behind the training on STAAD Pro and STAAD Foundation is to get the delegates learn the essential of STAAD Pro and STAAD Foundation software – from start to end. Along with that, the students needed to understand what to focus when designing any structure.
The core concepts were covered in the training program are Basic Information about Component of Structures like Building, Truss and Tower,Modelling in STAAD Pro of different building plans, Analysis of Structural Components, Design of Structural Components, Basic Information about different type of Foundations,Analysis and Designing of Isolated and Combined Footing.
The training program was conducted successfully and all the participants took active part in all the eight days of the training. the results from the pre and post evaluation  (summarized below) show that there were concepts and topics which the students didn't know about before the training and after the training they could explain the topics.
SUMMER SCHOOL TRAINING ON BENTLY CERTIFIED STAAD PRO & STAAD FOUNDATION – CIVIL
December 2023
M
T
W
T
F
S
S
1
2
3
4
5
6
7
8
9
10
11
12
13
14
15
16
17
18
19
20
21
22
23
24
25
26
27
28
29
30
31