RECONNECT 2.0 – A VIRTUAL ALUMNI MEET 2020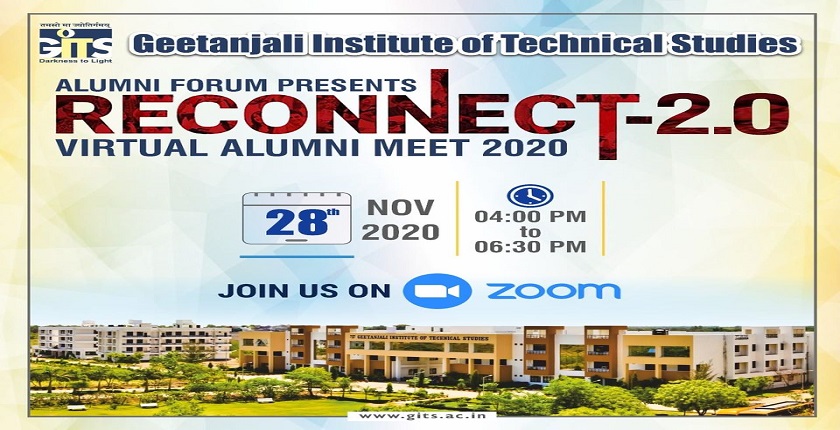 Dear 𝐆𝐈𝐓𝐒 𝐀𝐥𝐮𝐦𝐧𝐮𝐬/𝐀𝐥𝐮𝐦𝐧𝐚,
After the immense success of Reconnect 1.0, the Alumni Meet held in December 2019, Geetanjali Institute of Technical Studies cordially invites you to attend Reconnect 2.0𝟎, A Virtual Alumni Meet 2020, to be held on 28th November 2020 from 4:00 PM to 6:45 PM.
Following social distancing norms under the pandemic situation, the Alumni Meet will be conducted on Zoom Breakout Meet and develop personal networks despite the restrictions.
𝐋𝐞𝐭 𝐮𝐬 𝐜𝐨𝐦𝐞 𝐭𝐨𝐠𝐞𝐭𝐡𝐞𝐫 𝐚𝐧𝐝 𝐬𝐡𝐚𝐫𝐞 𝐨𝐮𝐫 𝐣𝐨𝐮𝐫𝐧𝐞𝐲.
Mark your calendar, fill-out the registration form and award nomination forms for the Alumni Awards. Spread the message among GITS Proud Alumni.
Let's Reconnect again..
Registration Form, http://shorturl.at/zCIRU
Award Nomination Form, http://shorturl.at/hABX4
𝑭𝒐𝒓 𝒂𝒏𝒚 𝒒𝒖𝒆𝒓𝒚 𝒓𝒆𝒈𝒂𝒓𝒅𝒊𝒏𝒈 𝒓𝒆𝒈𝒊𝒔𝒕𝒓𝒂𝒕𝒊𝒐𝒏 𝒑𝒍𝒆𝒂𝒔𝒆 𝒄𝒐𝒏𝒕𝒂𝒄𝒕 𝒕𝒐 𝑫𝒓. 𝑽𝒊𝒔𝒉𝒂𝒍 𝑱𝒂𝒊𝒏 (9461369876) 𝒂𝒏𝒅 𝒇𝒐𝒓 𝒂𝒘𝒂𝒓𝒅 𝒏𝒐𝒎𝒊𝒏𝒂𝒕𝒊𝒐𝒏 𝒄𝒐𝒏𝒕𝒂𝒄𝒕 𝒕𝒐 𝑫𝒓. 𝑹𝒂𝒋𝒃𝒆𝒆𝒓 𝑺𝒉𝒂𝒓𝒎𝒂 (9460507959).
Regards
GITS Alumni Forum https://www.facebook.com/groups/GITSAlumniForum
GITS FB Page: https://www.facebook.com/gitsudr
September 2023
M
T
W
T
F
S
S
1
2
3
4
5
6
7
8
9
10
11
12
13
14
15
16
17
18
19
20
21
22
23
24
25
26
27
28
29
30