MBA INDUCTION PROGRAMME – DAY 4: GD AND INTERVIEW SKILLS BY CA MEENAKSHI BHERWANI
August 6, 2019

Posted by:

admin

Category:

MBA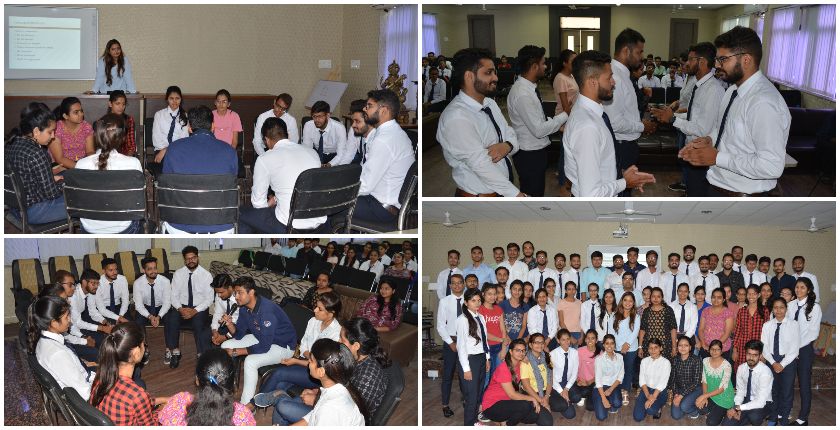 Of the many challenges faced by job seekers is ability to overcome the fear to face GD and interview sessions, which are inevitable processes for job screening. Therefore, this session was particularly conducted to address this issue and deliberate on the do's and dont's of GD and interview.  She explained the students that GDs assesses the overall personality – thoughts, feelings and behaviour – of an individual in a group and is conducted as an elimination process. General topics related to Current Affairs, Abstract topics, Business & Economy and Social Issues are given to every group for discussion. A group of panellists observe the students during the discussion. Through this observation, they judge intellectual, social, leadership, communicative skills of candidates taking part in the GD.
The interview process, she explained was carried out with the intention of enabling either parties to understand each other through face-to-face interaction. Needless to say, in an interview, (for a job or for admission to a B-school) it is not only the knowledge of a prospective applicant that is judged, but an assessment is also made of his/her soft skills, especially those related to work ethics, attitude towards work, communication, time management, self- confidence, articulation, tactfulness, sense of humour and the like – qualities that are not easily conveyed through a CV/ resume.
Mock GD and Interview sessions were conducted during the sessions to evaluate the students' abilities to communicate with others, assess their analytical abilities, leadership skills, social attitude, confidence etc.
MBA INDUCTION PROGRAMME – DAY 4: GD AND INTERVIEW SKILLS BY CA MEENAKSHI BHERWANI
September 2023
M
T
W
T
F
S
S
1
2
3
4
5
6
7
8
9
10
11
12
13
14
15
16
17
18
19
20
21
22
23
24
25
26
27
28
29
30