INAUGURAL OF LAKE CLEANING MACHINE MADE BY GITSIANS
December 13, 2018

Posted by:

admin

Category:

ME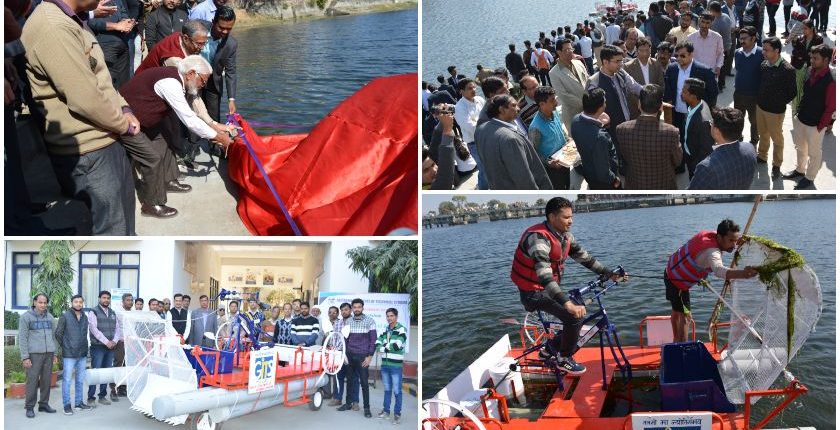 In order to keep the lakes clean, Mechanical engineering students of GITS Dabok, with the inspiration of our collector Shri Bishnu Charan Mallick have designed and successfully formulated "Lake Cleaning Machine". Inaugural function of the "Lake Cleaning Machine" took place in the presence of Shri Bishnu Chandra Mallick (collector, Udaipur), Shri Siddarth Sihag (Commissioner, Udaipur Municipal Corporation), Mr. Sardar Mohammad and Shri Tej Sharma (Member of Lake Development Association).
Mr. Kapil Agrawal, Vice Chairman, GITS remarked that this machine will be used for keeping the lakes clean and it is an important step in society welfare. GITS has always been there for helping people and will continue to do such in coming years too.
Dr. Vikas Misra, Director, GITS mentioned in his statement that in this Lake Cleaning Social Welfare Program collector said that Tourism and economic activities of the Udaipur city is entirely dependent on lakes. The society consists of 2 types of people- first group who is always ready to work for the preservation and conservation of lakes and the other group which is least bothered and interested about the society welfare. He said that we should work in this direction to change their attitude and mentality.
This lake cleaning Machine has been designed by the GITSians for the people who really think the lake should be clean. The defects and flaws of this machine shall be checked again and improvised edition will be launched next month very soon. In addition to all this Shri Siddarth Sihag (Commissioner, Udaipur Municipal Corporation) also mentioned that the installation of CCTV cameras nearby lakes is in process and will be finished soon.