EXPERT TALK ON MOTIVATION BY DR RAJESHWARI NARENDRAN FOR MBA STUDENTS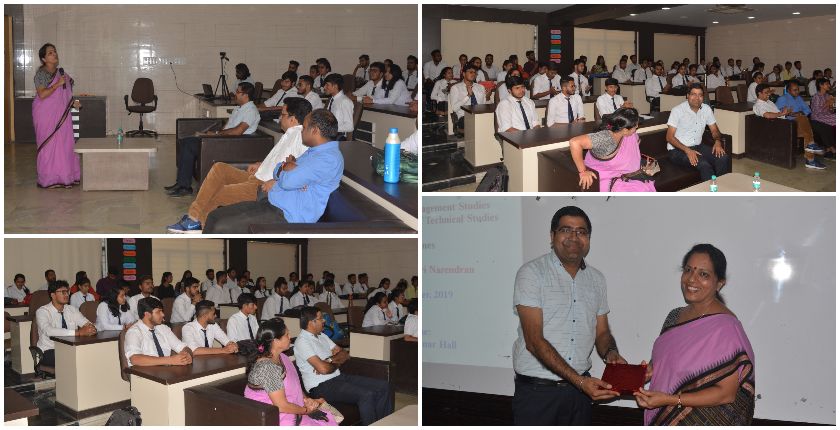 It was an invaluable experience for the management aspirants and faculty members who attended the inspiring and motivational speech by Dr Rajeshwari Narendran at the Department of Management Studies at GITS.  
Dr Rajeshwari Narendran, Ph.D. in Management & MBA, is Head & Professor HR/OB, and Director MHRM, M L Sukhadia University, Udaipur and Visiting Professor to IIM Udaipur, IIM Ahmedabad and many Universities across the globe. An Andrew Towl Scholar- Harvard Business School (GloColl and CWW), Boston, USA, she has the distinction of being the first ever woman and youngest National President of Indian Society for Training & Development, New Delhi, India (2013-14).  Hers has been a long and impressive journey of starting out from literally nothing to having built a very successful and highly respected career in education and engagement with the social sector for emancipation of rural and tribal women.
She shared with the students her life's experiences; the challenges she faced and the strength and the grit with which she overcame them. Whilst providing the audience with insights about real life, she persuaded the students to inculcate discipline and set goals that are in tune with their individual passions. She said, "Set the right, yet challenging goals- they shouldn't be way beyond your abilities and neither below your individual capabilities and capacities." She also advised the students to reduce screen-time and spend time on improving and maintaining their health by adopting active lifestyles. 
Her positivity and enthusiasm inspired the students to see the brighter side of things and encouraged them to have a positive outlook in every situation.
It was an inspiring day that left an enduring impression on the students and faculty members.
September 2023
M
T
W
T
F
S
S
1
2
3
4
5
6
7
8
9
10
11
12
13
14
15
16
17
18
19
20
21
22
23
24
25
26
27
28
29
30