EXPERT TALK ON COUNTRY'S ECONOMIC AND FINANCIAL STATE FOR MBA STUDENTS BY FINANCE CLUB
October 23, 2019

Posted by:

admin

Category:

MBA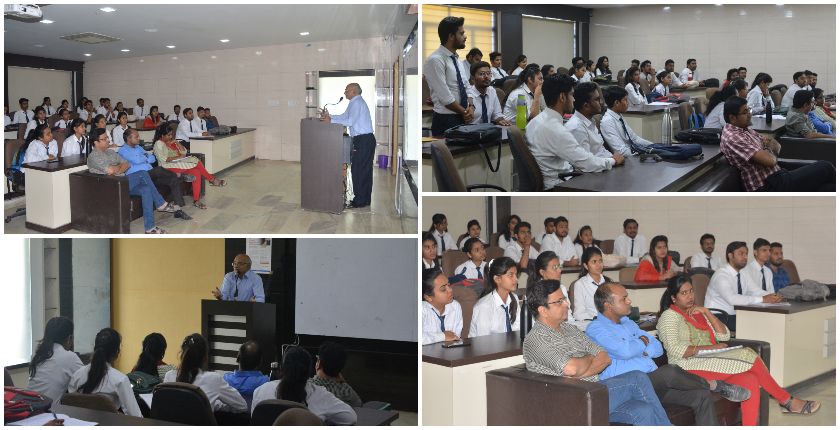 An Extension lecture on "Country's Economic and Financial State" was delivered by Dr. Anupam Bhargava at the Department of Management Studies, GITS.
Dr Anupam Bhargava, is graduate with Honours in Economics from St.Stephen's College, New Delhi and postgraduate from Delhi School of Economics. He bags rich experience of both the corporate and the academia world. He served as Assistant General Manager with the State Bank of India, Administrative Officer with Oriental Insurance and as Chief Resident Manager with HDFC Bank. He has spent over two decades in the financial industry. After his service in financial industry, he switched to academia as Research Guide and Advisor with Rajasthan Vidyapeeth, Udaipur and a visiting professor to a large number of colleges and institutes. Along with academia Guide and Advisor, he is also a legal consultant for High Court and the Supreme Court cases and a frequent columnist in national newspaper like The Economics Times, The Times of India and The Hindu. His writings impinge on socio-cultural and socio-economic issues.
He shared his experience with the students about the Finance Industry and Economic conditions of the country. He started with sharing the knowledge about basic concepts of the finance and financial market structure of India i.e., Credit Market, Money Market, Debt Market, Capital Market etc.
After the basic concepts he narrated about the financial terminology like Foreign Exchange, Foreign Exchange Market and Foreign Exchange Reserves and given the in-depth view about the process of foreign exchange in India. He also pointed out the pros and cons of FDI in India.
Later on he shared the knowledge about the economic state of India. Along with the economic conditions he also explained about the concepts of GDP, Inflation, types of inflation i.e., money inflation and price inflation and also taught about the Quantity Theory of Money (QTM).
Over all the lecture was very informative and it helped many non- financial students to get a glimpse of the industry. The session was ended by the proposing a vote of thanks to the Dr. Anupam Bhargava.
The event was coordinated by Faculty Coordinator Dr. Kiran Soni and student coordinators Mr. Sachin Sharma (MBA III Semester) and Ms. Sunanda Choubisa (MBA I Semester).
EXPERT TALK ON COUNTRY'S ECONOMIC AND FINANCIAL STATE FOR MBA STUDENTS BY FINANCE CLUB
September 2023
M
T
W
T
F
S
S
1
2
3
4
5
6
7
8
9
10
11
12
13
14
15
16
17
18
19
20
21
22
23
24
25
26
27
28
29
30