2015 GITS-MTMI International Conference on 27-29 Dec 2015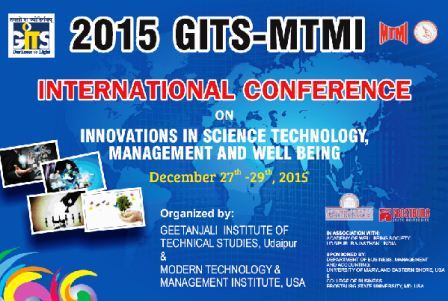 Start:

January 1, 2015 10:00 am

End:

December 29, 2015 6:00 pm
Geetanjali Institute of Technical Studies, Udaipur (Rajasthan) India and Modern Technology & Management Institute Inc., USA; in association with Academy of Well Being Society, Udaipur (Rajasthan), India and in collaboration with University of Maryland Eastern Shore, USA; & Frostburg State University, USA are happy to announce the 2015 International Conference on Innovations in Science, Technology, Management and Well Being during December 27-29, 2015. This will be achieved through multi-disciplinary research-based idea generation and discussions. The attempt is to bring about richness in discussion by encouraging contributions from business professionals, academicians and researchers across academic institutions and industry worldwide.
Conference Scope:
The aim of the conference is to bringing together the Professors, Researchers, and students in areas of Science, Technology, Management and Well Being and to provide an international forum for the dissemination of original research, new innovations and ideas.
The conference will bring together experts from different streams of above areas to discuss the contemporary issues, challenges, advances, and innovations in engineering. This will provide a forum for sharing insights, experiences and interactions over a wide range of subjects, issues, trends and research areas.
Click Here for more info and submission of Papers.