Campus Drive of Transport Corporation of India Ltd for MBA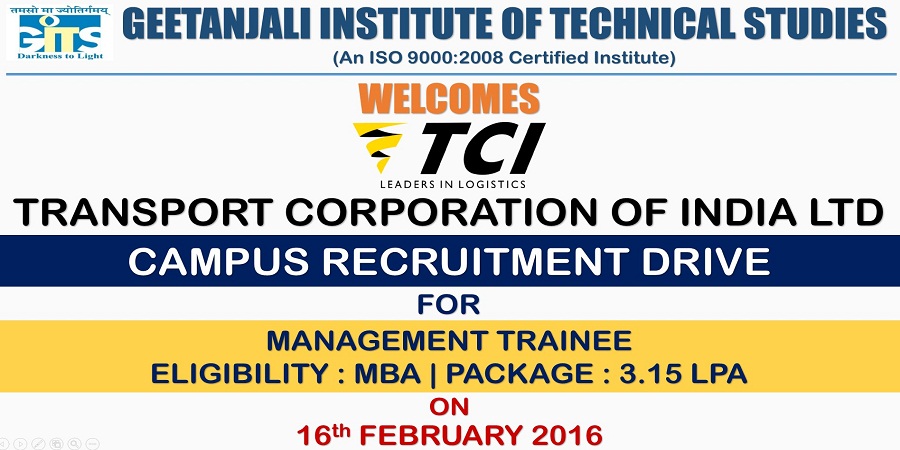 Start:

February 16, 2016 9:00 am

End:

February 16, 2016 1:17 pm

Location:

GITS Placement Cell
The Campus Interview of Transport Corporation of India Ltd for MBA students of GITS will be held on 
16th Feb, 2016 at 9 am in GITS campus.
The TCI is doing campus recruitment first time in Rajasthan.
About TCI
TCI is India's leading Multi-modal Integrated Supply Chain Solutions Provider with a Global presence. With expertise developed over five decades, customer centric approach and extensive infrastructure, TCI today moves 2.5% of India's GDP by value.
Company URL is http://www.tcil.com/tcil/
Job Profile
Job Profile: Management Trainee Eligibility: MBA Package: 3.15 LPA
Responsibilities includes:- 1) Developing new business as per target. 2) Retaining existing customer. 3) Attending RFQ/ customer call, customer complaints etc. 4) Intervening for to deliver services to the customer. 5) Preparing proposal and submission to prospects. 6) On time bill submission and follow-up for payment realization from key customer 7) developing Key Accounts 8) developing business from existing customer 9) Managing good relations with the customers Should be IT Savy Excel, power point, word, web browsing, mails, etc
Event will start in: