DEPARTMENT ORGANISES INTERACTIVE AND HANDS – ON TRAINING SESSION TO HONE SOFT SKILLS OF THE MBA STUDENTS
September 28, 2019

Posted by:

admin

Category:

MBA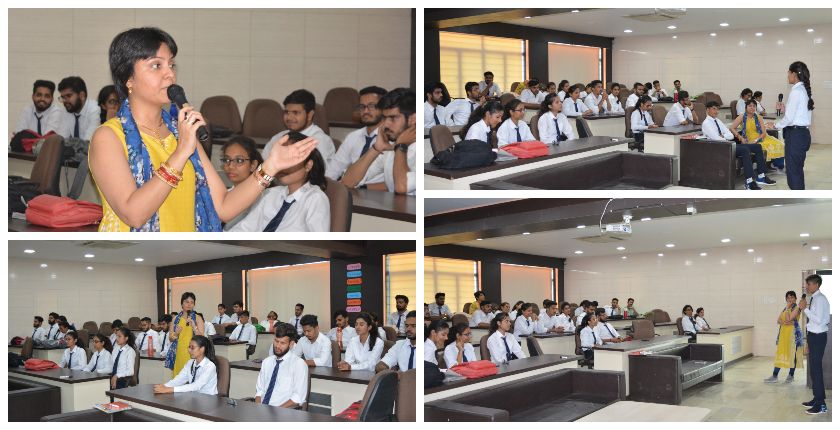 The Department of Management Studies organised an interactive soft skills training session for the MBA students (First Year) on 24th Sept 2019.  The session was conducted with an objective to prepare and groom the students as confident management trainees by improving their communication skills, body language, and most importantly to develop a positive outlook towards life.  
Ms.  Aruna Shrivastava , communication professional with over 12 years of experience, was the resource person responsible for conducting the session. She began the session by defining Soft Skills and the important role it plays in everyone's career, personal growth and eventual success. During the session, she conducted an introspective exercise through which the students identified their achievements so far and shared them with the entire class. This laid the foundation for them to build on those stories of success. Ms. Shrivastava was successful in engaging the entire audience and motivating them to overcome their inhibitions and shyness.
The 24th of September also marked the conclusion of the 3-week Soft Skills and Personality Development Training Session, for the final year MBA students on effective communication, grooming, CV preparation, and training for Interviews and Group discussions. The training programme comprised of group and personal training modules conducted at in-campus and off-campus venues. Students were trained to prepare a good CV, use of professional language, business etiquette and email writing. Along with these mock interview sessions and simulation activities that involved interacting with people of the industry as well as small business so that they improved their interpersonal communications were held.
At the end of the session, positive feedback was received and the students thanked the Management and Training and Placement Cell of GITS for organising the training programme.  
DEPARTMENT ORGANISES INTERACTIVE AND HANDS – ON TRAINING SESSION TO HONE SOFT SKILLS OF THE MBA STUDENTS
December 2023
M
T
W
T
F
S
S
1
2
3
4
5
6
7
8
9
10
11
12
13
14
15
16
17
18
19
20
21
22
23
24
25
26
27
28
29
30
31