CAMPUS INTERVIEW OF E-CONNECT SOLUTIONS PVT. LTD.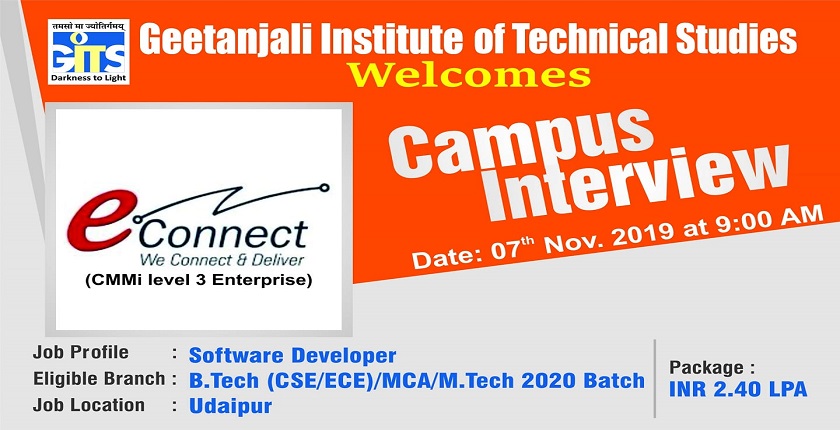 GITS is organizing the Campus Interview of E-Connect Solutions Pvt. Ltd. for our B.E/B.Tech (CSE, ECE)/MCA/M.Tech students from 2020 Batch for the Profile of (Developers, Application Engineer, Application Support Executives, QA Engineers) @ the Package of INR 2.40 Lacs Per Annum on 07th November 2019 at 09:00 AM.
Company Profile-
E-connect Solutions Pvt. Ltd is a CMMi level 3 Enterprise Software Solutions company head office at Udaipur (Raj). We have 20 years of experience and continue our commitment to provide innovative solutions that leverage the best Business & IT thinking for our customers in India and around the globe. We provide comprehensive end to end business & IT Solutions that enhance our customer's business operations. Specializing in providing solutions mainly in E-Governance Domain, E-Business, IT consulting & system integrated solutions in the govt. and Indian business market space. The co. has significant experience in implementing & managing E-business solution in various sectors.
Job Profile: Developers, Application Engineer, Application Support Executives, QA Engineers
Package: INR Rs. 2.40 Lacs per Annum.
Job Location: Udaipur Rajasthan
SELECTION PROCEDURE :
• Eligible candidates will appear for the online Aptitude & Coding Test. The coding test would require to solve a couple of coding problems with any of the programming languages such as – C, C++, C# , VB.net, PHP, Java, python, Javascript (Node) or Ruby. (Candidate with other branch like electrical /electronics and interested only to join for position "C" may appear for a general apptitude test without coding).
• Candidates shortlisted on the basis of Aptitude and Coding Test will appear for the Skill Evaluation on the same date. This would be Subjective Test where No Technical Knowledge is required.
• Final Shortlisted candidate will be invited for Personal interview.
COMPENSATION:
• During the Internship or training period of first six month, a compensation of Rs. 12,000 per month would be given.
• After successful completion of training period, candidate would be entitled for Rs. 2, 40,000 CTC for next one year.
• Next Increment would be after completion one year with an assured increment of at least 10%. However, this can be more than according to the performance of the candidate.
• All trainees will sign a loyalty agreement of two years from the date of joining with a signed cheque of Rs.60, 000.
Selection Process:
• Company Presentation
• Written Test & Personal Interview
December 2023
M
T
W
T
F
S
S
1
2
3
4
5
6
7
8
9
10
11
12
13
14
15
16
17
18
19
20
21
22
23
24
25
26
27
28
29
30
31