CAMPUS Drive of Ready Bytes @ GITS ON 9th Dec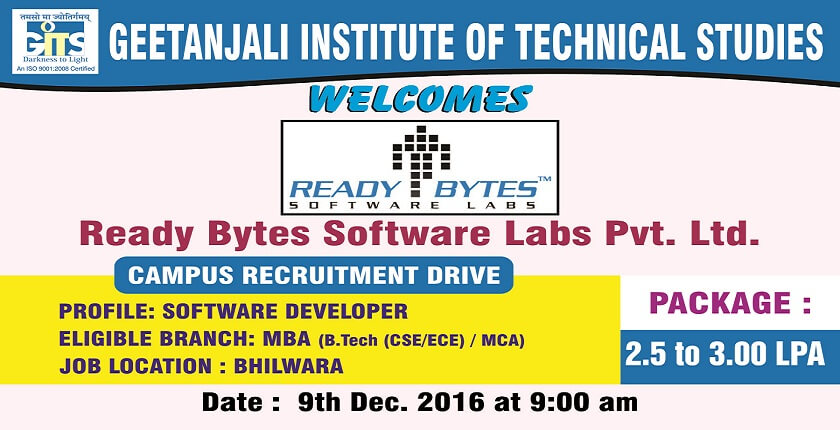 Campus Recruitment Drive of Ready Bytes Software Labs Pvt. Ltd. for our B.Tech (CSE/ECE)/MCA students with the Package of 2.50 to 3.00 LPA on 9th Dec.2016 at 9:00 AM.
Position: Software Developer 
Package Offered : 2.5 to 3.00 Lacs Per Anum 8K Stipend During Internship (as per performance), afterwards absorbed as Full-Time-Employee 2.5-3.00 LPA.
Engagement Bond: 2 Years (Including Internship) 
Job Location: Bhilwara
SELECTION PROCESS:
Screening Test (Aptitude Test -1), 
Aptitude Test-2, Technical Interview, Programming Interview (Last 3 stages at Bhilwara office)
Date: 09th December, 2016.
NOTE : ELIGIBLE STUDENTS HAS TO REGISTER THEMSELVES BEFORE PARTICIPATING IN THE DRIVE.