CAMPUS DRIVE OF Directi @ GITS ON 15th NOV.
November 15, 2016

Posted by:

admin

Category:

News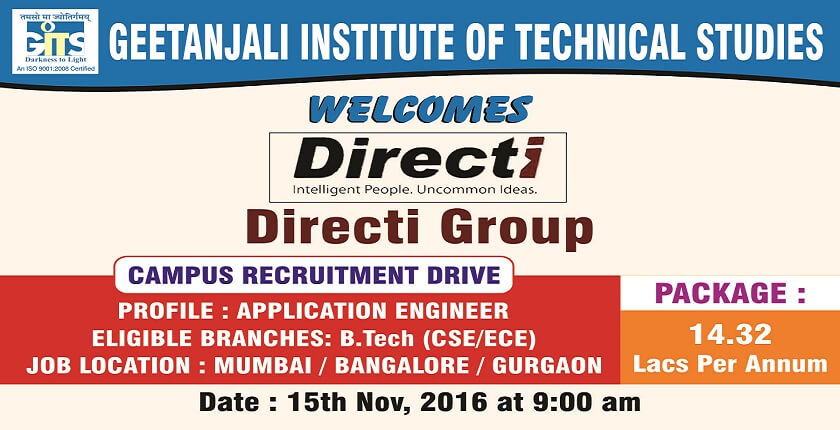 Campus Recruitment Drive of Directi an IT MNC'S (Directi employs 1500+ people across 8 offices, with over 9 million customers, revenues of over $250 million and a group enterprise value of over $1.4 billion) in our college for hiring APPLICATION ENGINEER with the PACKAGE OF 14.32 LACS PER ANNUM from B.TECH (CSE/ECE) through the Process of Multiple round on 15TH NOV. 2016 AT 9:00 AM.
Job Profile: APPLICATION ENGINEER
Eligible Branches: B.TECH (CSE/ECE)
Job Location: MUMBAI / BANGALORE / GURGAON
Package: 14.32 LACS PER ANNUM
SELECTION PROCESS:
Round 1:
Coding Round (2 questions) 90 minutes
Platform – http://www.codechef.com
Round 2:
Algorithm round
45 minutes each
Round 3:
Technical Round
45 minutes
Round 4:
Final round / Discussion
10 – 20 minutes
Each round will be an elimination round.
Verdict will be announced immediately after round 4.
SKILLS REQUIRED:
You are acquainted with / have mastered a few of the below skills/tools:
JAVA, C#, PHP, RUBY, PYTHON, C++, JAVASCRIPT, WPF, ERLANG, HASKELL,LISP, LINUX, FLEX, XUL, BASH, ADVANCED NETWORKING, ASYNC IO, ROUTING,TCP/UDP, POSTGRES, DATA STRUCTURES, ADVANCED RDBMS, MYSQL, MSSQL, NEO4J,BDB, REST, SOAP, IPC, RPC, HTML, CSS, AJAX, AGILE, TDD, XP, SCRUM,CACHING, LOAD BALANCING, ORIZONTAL PARTITIONING, MEMCACHED,MULTI-THREADING, CONCURRENCY, SCALABILITY, UNICODE, USABILITY / UX, MVC,SPRING, TITANIUM, ANT, WATIR, SELENIUM, GIT, CVS, SVN, JIRA.
NOTE : ELIGIBLE STUDENTS HAS TO REGISTER THEMSELVES BEFORE PARTICIPATING IN THE DRIVE.