CAMPUS DRIVE OF C-DAC JAIPUR FOR MCA STUDENTS ON 7 JAN. 2017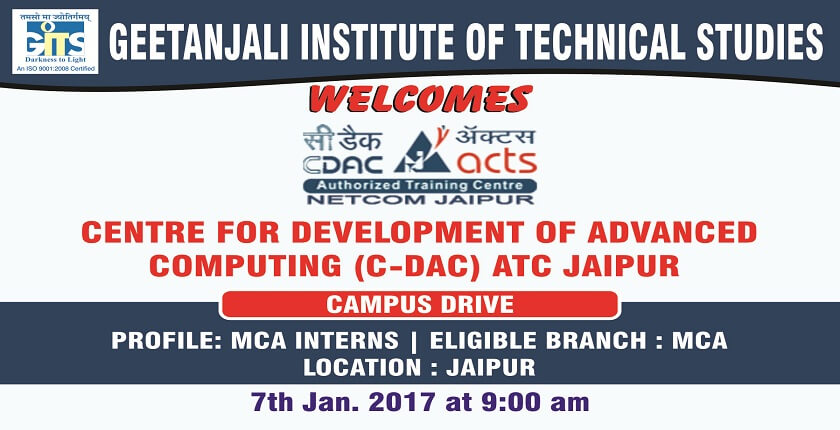 Campus Drive for MCA students to be the Part of C-DAC ATC Jaipur for their 6 Months Live Internship Program in JAVA, Android, PHP, MS.NET etc. on 7th Jan. 2017 at 9:00 am.
C-DAC "Tech Sangam Program" is a National initiative of Academia-Industry Collaboration Program. These programs are promoted by Government for capacity building for the nation and stakeholder can get advantages of them for getting better knowledge and opportunities. Thereby bridging the gap between the industry and the academia.
After selection students have to work on Project Management tools like GITHUB, KanbanChe, PMTool etc. training to ensure complete environmental growth among students with initial training, candidate will be deployed in the live project, which will be governed by IT division of C-DAC ATC JAIPUR.
Deadline based working approach to make student professionals as "ready to deploy".8 hours per day dedicated working to enhance the skill set of the candidates.
To get selected minimum 60 % is required in the online exam.
CAMPUS DRIVE OF C-DAC JAIPUR FOR MCA STUDENTS ON 7 JAN. 2017
June 2023
M
T
W
T
F
S
S
1
2
3
4
5
6
7
8
9
10
11
12
13
14
15
16
17
18
19
20
21
22
23
24
25
26
27
28
29
30