ATV CAR MADE BY GITS STUDENTS GOT 18th RANk IN MEGA ATV CHAMPIONSHIP 2016!!!!
May 6, 2016

Posted by:

admin

Category:

ME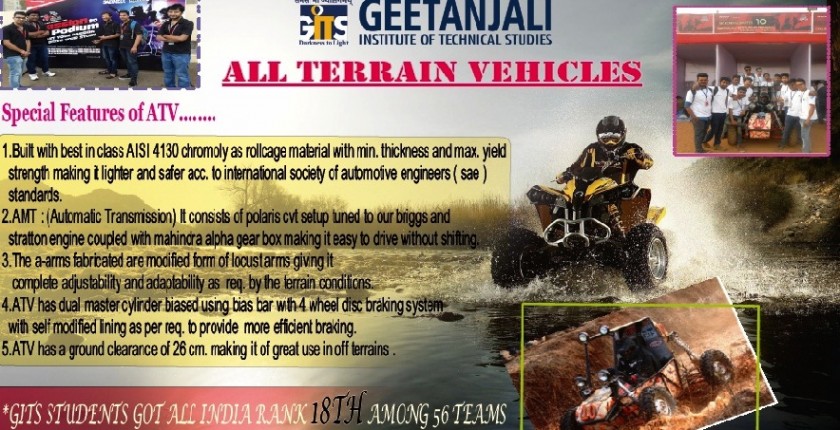 It gives us immense pleasure to announce to that GITS students team has secured 18th rank  in National Level Mega ATV Championship held at Bhuwaneshwar (Orissa). The students of B.Tech Automobile Engineering, Electrical Engineering and Mechanical Engineering had developed this special car and made us proud by representing GITS nationally. The journey still continues….. as our students' team "Reckoning Quarter" has successfully registered for E-BAJA 2017 as well. In this event,  412 colleges from all over India shall participate.
What is ATV?

An All Terrain Vehicle (ATV), as defined by the American National Standard Institute (ANSI) is a vehicle that travels on low-pressure tires, with a seat that is straddled by the operator, along with handle bars for steering control. As the name implies, it is designed to handle a wider variety of terrain than most other vehicles.

Special Features of ATV

1. Built with best in class AISI 4130 chromoly as rollcage material with min. thickness and max. yield strength making it lighter and safer acc. to international society of automotive engineers (SAE) standards. 

2. AMT : (Automatic Transmission) It consists of Polaris CVT setup tuned to our briggs and stratt on engine coupled with mahindra alpha gear box making it easy to drive without shifting.

3. The a-arms fabricated are modified form of locust arms giving it complete adjust-ability and adaptability as required by the terrain conditions.

4. ATV has dual master cylinder biased using bias bar with 4 wheel disc braking system with self modified lining as per required to provide more efficient braking.

5. ATV has a ground clearance of 26 cm. making it of great use in off terrains .
We Congratulate all the following students of team "Reckoning Quarter"  for reaching such heights of practical knowledge.
"Great Work Team Reckoning Quarter"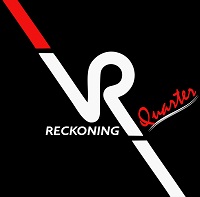 Yash Vadhwani | Naveen Kumawat | Abi Ali Sabunwala | Bhanu pratap | Dhruv Joshi | Jay Sharma |Vishal Nagda | Shubham Agrawal | Lovish badal |Chandraveer singh | Anuj Menaria | Tanuj Patel | Yasin Faraz | Kousal  Lakhara | Vipul sanadhya
ATV CAR MADE BY GITS STUDENTS GOT 18th RANk IN MEGA ATV CHAMPIONSHIP 2016!!!!
September 2023
M
T
W
T
F
S
S
1
2
3
4
5
6
7
8
9
10
11
12
13
14
15
16
17
18
19
20
21
22
23
24
25
26
27
28
29
30