ARGUSOFT RECRUITED 6 B.TECH STUDENTS IN CAMPUS DRIVE HELD @ GITS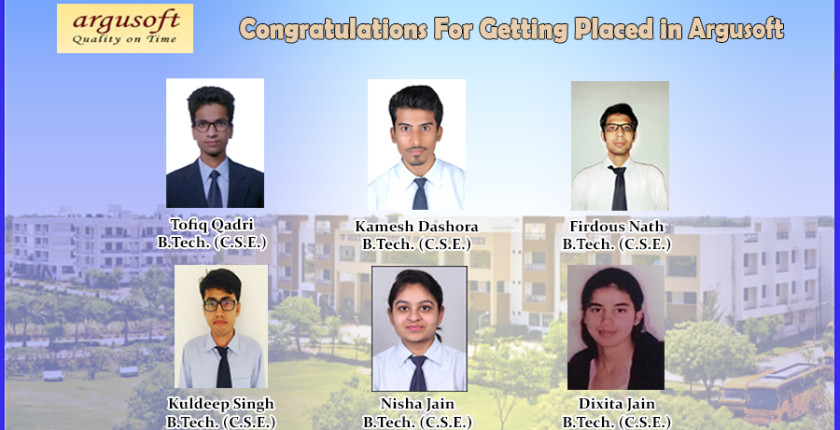 Argusoft an IT Service company had recruited 6 B.Tech CSE students in a campus drive held @ GITS on 19 Sept 2016.The students have been offered a package of 3.75 lakh INR per anum at Gandhinagar(Gujrat) location.
Argusoft augments client teams with their software development, testing, maintenance and support.The primary focus is Business Automation and SOA system integration, leveraging Java, PHP, dotNet and Web 2.0 related technologies.They deliver these services as turnkey projects or through their extended team model (mODC – managed Offshore Development Center), providing a completely managed team, to ensure continuity and efficiency.​
The following students have been selected:
Tofiq Qadri, B.Tech CSE Final Year
Kamesh Dashora, B.Tech CSE Final Year
Firdous Nath, B.Tech CSE Final Year
Kuldeep Singh, B.Tech CSE Final Year
Nisha Jain, B.Tech CSE Final Year
Dixita Jain, B.Tech CSE Final Year
We are feeling proud to write this achievement of our students as "bumper opening of Placement 2016-17" and also want to thank Argusoft for believing in us since two years.
Congratulations to all.
ARGUSOFT RECRUITED 6 B.TECH STUDENTS IN CAMPUS DRIVE HELD @ GITS