TEAM ONE SHOT KILLERS WON THE BUILD-A-THON NATIONAL LEVEL HACKATHON COMPETITION 2019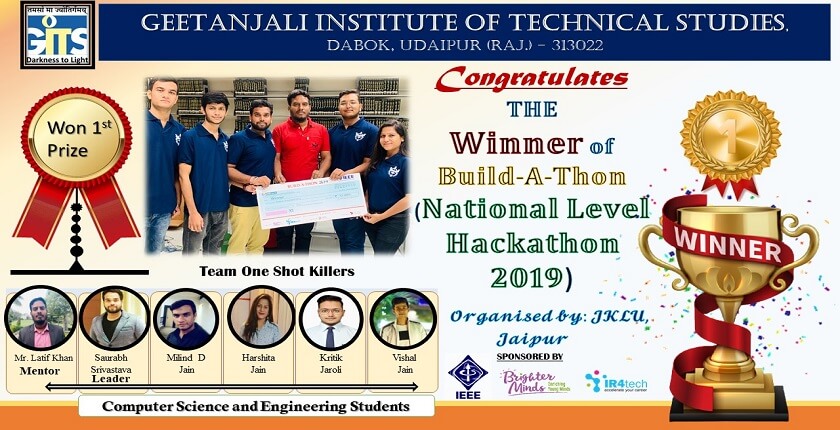 Geetanjali Institute of Technical Studies adds another feather in its cap as our students through their hard work, innovativeness and persistence. They designed and fabricated a utilitarian and practicable Garbage-Segregation device for the Build-A-Thon competition held at JK Lakshmipat University, Jaipur.
The mission of Build-a-Thon Competition was to discover and identify, through application of technology, innovative solutions for issues being faced by people in their surroundings as well as in the world. 32 teams participated in the competition and were judged on numerous parameters like innovative idea, quality and efficiency of equipment, usability and practical applicability of the design etc.
Our team ' One Shot Killers', represented by Saurabh Srivastava (III year), Milind Jain (III year), Vishal Jain (III year), Kritik Jaroli (III year), Harshita Jain (II year) from the CSE department, and mentor Mr. Latif Khan (Assistant Professor, ECE) participated in the event securing 1st position with prize of Rs. 12000/- for tackling the issue of segregation of waste generated in towns and cities and devise a workable waste management system.
The management and members of the GITS family congratulate the team for their accomplishment and wish them more success.
TEAM ONE SHOT KILLERS WON THE BUILD-A-THON NATIONAL LEVEL HACKATHON COMPETITION 2019
December 2023
M
T
W
T
F
S
S
1
2
3
4
5
6
7
8
9
10
11
12
13
14
15
16
17
18
19
20
21
22
23
24
25
26
27
28
29
30
31