Role of Mechanical Engineers in our Society and Industries, everything we need to know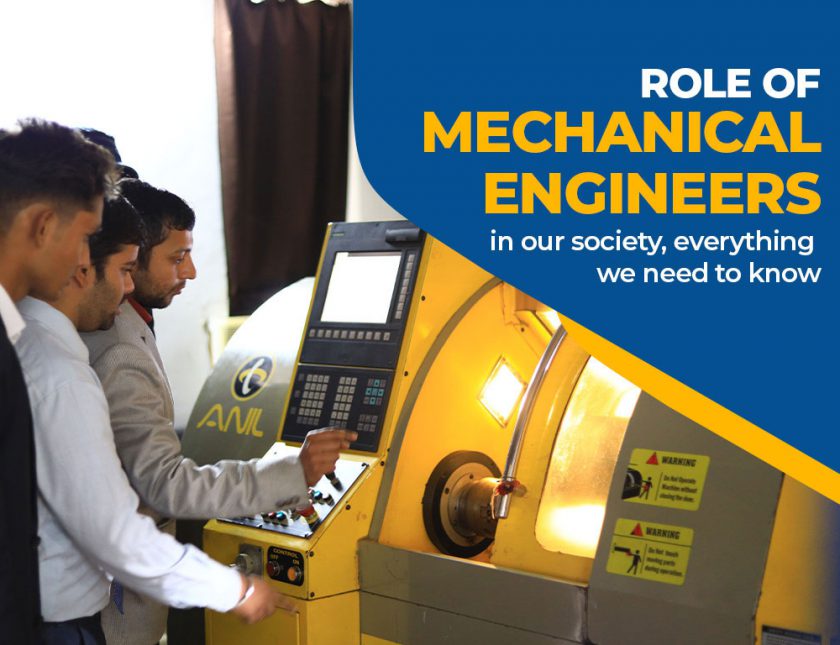 Are you planning to pursue a bright career in Mechanical Engineering? Here is everything you need to know about the field and future prospects.
Mechanical Engineers is a blending of principles of physics, mathematics, and materials science to solve problems and improve the efficiency and performance of mechanical systems and devices. They may also work on projects related to energy conservation, sustainability, and renewable energy sources for environmental protection. In this blog, we will explore the role of mechanical engineers in our society in particular and industries in specific.
At GITS Udaipur, we are proud to offer the top mechanical engineering programs in Southern Rajasthan.
Our experienced faculty, state-of-the-art facilities, and hands-on learning opportunities including experimental learning provide students with the knowledge, skills, ability and experience they need to succeed in the field of Mechanical Engineering.
What is Mechanical Engineering?
Before entering into the Mechanical Engineer role, let us first understand the concept of Mechanical Engineering. Mechanical Engineering is defined as the branch of engineering that deals with the design, development, construction, and operation of mechanical systems and tools. It include machines, tools, and equipment used in various industries, such as transportation, manufacturing, power generation, and medical devices etc.
Also Read: Why choose GITS, Udaipur?
What role does a Mechanical Engineer play in our society and in Industries?
Mechanical engineers are involved in almost every aspect of human existence and welfare, including machines, cars and other vehicles, aircraft, power plants, automobile parts, and manufacturing plants etc. A Mechanical Engineer plays a significant role in designing, developing, and testing machines as well as thermal devices. It also includes systems that are essential to many aspects of modern society and Industries. They use their knowledge of mechanics, thermodynamics, materials science, and energy to create solutions that improve the quality of life of people.
Besides, the role of a mechanical engineer in our society is contributed as:
● Power Generation: Mechanical engineers design and develop power-generating machines such as internal combustion engines, gas turbines, and steam and wind turbines etc
● Heating and Cooling Systems: They design and develop heating, ventilation, refrigeration and air conditioning systems for buildings and other structures.
● Transportation: Mechanical engineers are involved in designing and developing transportation systems, including cars, trains, airplanes, steamers and boats.
● Industrial Equipment: They design, develop and maintain industrial equipment such as machine tools, robots, and conveyor systems & belts
● Infrastructure: Mechanical engineers play a key role in the design and maintenance of infrastructure, including buildings, bridges, roads, and transportation systems.
Overall, Mechanical Engineers are involved in designing, building, and maintaining the engines, machines, and structures that make modern life possible and comfortable.
They contribute to society by using their skills to improve the safety, security, efficiency, and comfort of the systems and devices that we rely on every day.
Geetanjali Institute of Technology, Udaipur, is one of the top Mechanical Engineering College in Udaipur. Our program is accredited and is designed to give students a solid foundation in the fundamental principles of mechanical engineering and the opportunity to specialize in areas such as power generation, transportation, and industrial instrumentation.
The department has centre of excellence in Industrial Automation approved by Rajasthan Technical University, Kota for imparting training in industrial automation toempower young generation with automated real-time controlling of machines-equipment, safety, energy saving etc. and to gain visibility in production system, identify areas of improvement, and take intelligent decisions to enhance operational performance. This Centre of excellence is not only providing the knowledge of automation to trainees but also make them aware on effectively utilize automation in modern industries along with energy saving approach.
We are committed to provide our students with the best education and training for improving their functional skills, soft skill and entrepreneurship. If you are passionate about Mechanical Engineering or want to make a difference in the future world, our program is a perfect choice. Apply today and join our community of accomplished engineers shaping the future of technology and society.