Why choose GITS, Udaipur?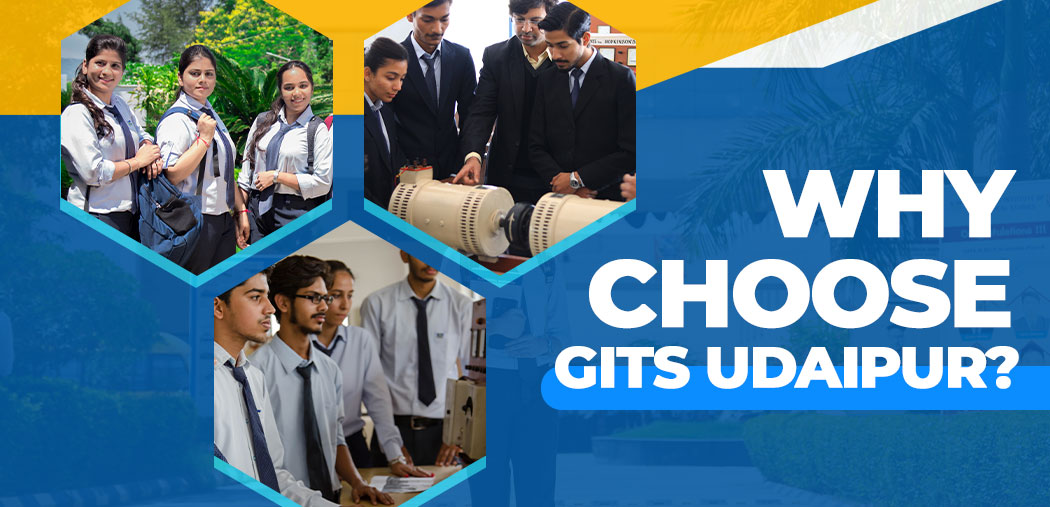 Choosing a college or university for technical studies requires thorough research because a technical university is supposed to work not only for technical courses and practical hand-on training but also for experiential learning and leadership development. But when it comes to Geetanjali Institute of Technical Studies, GITS Udaipur, one can rely on it for your structured technical career. Here is the reason why you should choose GITS, Udaipur.
If you're looking for a technical studies college, many factors go into making the right choice. You need to consider the five points i.e. Institutional Framework, Quality assurance, Competent facilities, quantity & quality wise talented students and institutional facilities as per present state of art or technology as far as faculty is concerned, their qualifications, their experience with students in your field, and their teaching approach matter priority. You'll also want to find out what kind of curriculum is offered (do they focus primarily on theory or practice?) and how affordable it would be based on these factors alone. Curriculum wise it is not quality reform but quality assurance as well. Hence the course must be accredited by competent authority.
Geetanjali Institute of Technical Studies is the best B. Tech, M. Tech, MBA, and MCA college in Udaipur. In the past years, we have successfully placed thousands of students with their dream jobs. Popularly known as GITS, Geetanjali Institute of Technical Studies is a part of Geetanjali Group, which is amongst the prestigious and esteemed organizations of Rajasthan that is growing exponentially for more than three decades in the fields of manufacturing, hospitality and various verticals of the education industry. The promoters of the group are respected industrialists of the state that include Mr. JP Agarwal (Chairman), Mr. Kapil Agarwal (Vice Chairman) and Mr. Ankit Agarwal (Executive Director).
Here are the top factors that make GITS the best college in technical studies in Udaipur.
1. Skilled Faculty:
The teaching faculty of Geetanjali Institute of Technical Studies, GITS, are skilled and well-trained in their field. They have experience and a good reputation for being knowledgeable about their subject matter. Our staff is also well respected by other members of society, which means that students will get the kind of help they need when it comes to successfully getting through their college program. All staff members (Teaching & non teaching) are pioneers as far as their knowledge, skills, ability & experience is concerned. They are being trained for adoptive learning, blending learning, cooperative learning & digital learning.
2. Awards and Recognition:
Affiliation is a sign of quality and stability. It's important to know if the college is affiliated with an agency since the institution has met specific standards established by affiliating bodies, that is called quality assurance. This will give you peace while applying for jobs or internships after graduation. GITS is the Only Institute in Southern Rajasthan having NBA (National Board of Accreditation) accreditation in the Engineering & Management Programs and NAAC (National Assessment & Accreditation Council) with "A" Grade.
Apart from that Geetanjali Institute of Technical Studies, Udaipur, is also affiliated with Rajasthan Technical University, Kota and Approved by AICTE, New Delhi).
3. Multiple learning options:
Another advantage of choosing GITS Udaipur is that we provide multiple learning options. We offer technical courses such as B. Tech, M. Tech, MCA, and MBA. Also, we offer Ph.D. courses. Our academic culture equally focuses on both theoretical knowledge and practical learning along with entrepreneurship development. It allows students to get credit for both types of education. Numbers of training of present needs are regularly arranged by GITS for increasing the talent of students.
4. Affordable and fair fee structure:
The cost of education should not be an obstacle to getting the training you need. GITS, Udaipur, has an affordable fee structure for academics and hostels. Apart from these, we also provide scholarships to the extreme talent of the institute. Further, with minimum fees structure, whole education is provided as per need of student READY and Industries READY program.
5. Focus on Overall Career Development with Best Placements in Top MNC:
We don't have to tell you much about our success. Our recent placements with leading Industries like Amazon, Samsung (Harman), Reliance Jio, Adani Gas, Adani Wilmar, Bosch, Thermax, TCS, Hexaware, Metacube, Honeywell, Infosys, Wipro and many more Corporates regularly visit GITS for Campus Interview. GITS, Udaipur, holds the best placements in Udaipur. The majority of our alums are well placed in the top associations.
We know college is a significant investment and for one it can be difficult to make. But, if you start technical studies with GITS Udaipur, we promise you a bright career. With the best faculty and best academic facilities, we promise to make it the best for you. In short, GITS not only prepares the students for final exams but for a fantastic future too in expanding the industrial revolution.