Research Awareness Program
November 25, 2016

Posted by:

admin

Category:

News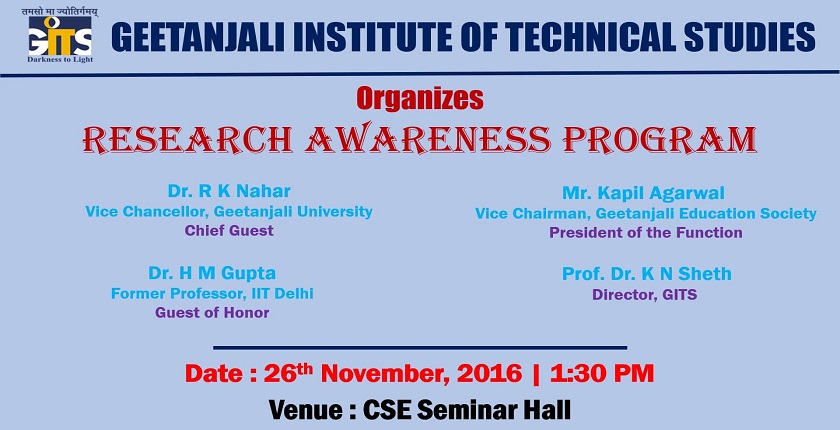 "In the broadest perspective research includes gathering of data, information and facts for the advancement of knowledge.Scientific research is considered important for the institutes as standing of the academic institutes is based on the scientific research conducted by such institutes. With the objective of promoting research in the areas of engineering, management and computer applications.the institute is organizing its First Program on Research Awareness" Dr. K N Sheth
This program is scheduled at 1:30 PM and it is proposed to be formally inaugurated by Mr. Kapil Agarwal, Vice Chairman of Geetanjali Education Society and Prof. Dr. R K Nahar, Hon'ble Vice Chancellor of Geetanjali University. Dr H M Gupta, Former Professor , IIT Delhi is Guest of Honor .He will enlighten us his research work conducted at USA. Prof. Dr. K N Sheth, Director of this institute will also share his expectation on research with the faculty members. He will discuss the significance of research and modus operandi for conductibng research in engineering. Dr. P K Jain, Professor of Faculty of Management Studies, Mohanlal Sukhadia university, Udaipur will also share his views on research methodologies. 
Dr V R Raghuveer, Dean R & D, HOD CSE and Dr Manish Saraswat, Assistant Professor,Dept of MCA  will be giving presentation on the research work recently conducted by them.
More than 100 Faculty Members are likely to be benefited through this Program.
All are cordially invited.