ORIENTATION DAY-2016: A WARM WELCOME TO ALL NEW STUDENTS @ GITS
July 28, 2016

Posted by:

admin

Category:

News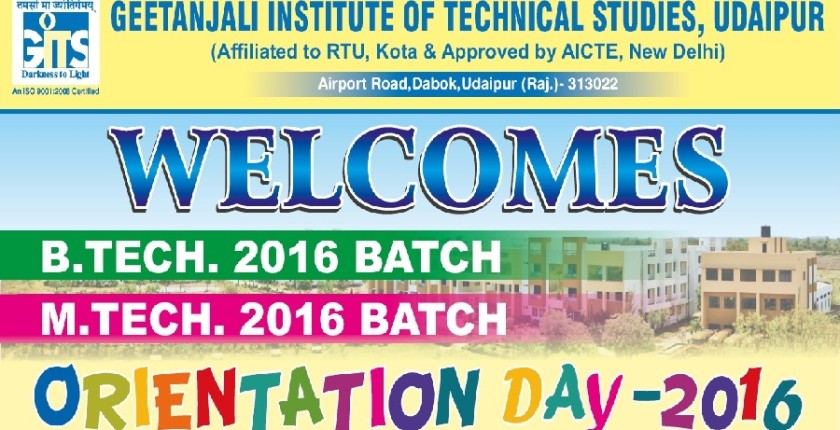 GITS Family welcomes  all B.Tech 1st Year students admitted for session 2016-17 to the "Induction Program" which is an initiative to groom the overall overall personality of students and make them acquainted  with the culture of institute on 29th July 2016(GITS Campus, Dabok Udaipur).
The aim of the program is to ensure that every student feels welcomed, engaged  and excited to begin with their new and important  stage of education.The idea is to make the students aware of their prospective opportunities and to show them the path they have adopted in order to become successful engineer. The theme of the event is "empowering students towards professional accomplishment".
The function would be graced by top Management dignitaries, Dr. M. Venu Gopala Rao(Principal GITS), Finance Controller, Deans and HODs of all departments along with faculty members.
Important Contact Nos.
Bus Facility:+91-9799208474
Hostel Facility:+91-9782026265, 9462936495
Admissions Related:+91-9414177800
*Bus Starting Time will be 7:50 A.M.
Bus Route:
Police Line, KissanBhawan( Reti Stand), Vegitable Market, Jadaav Nursery, Police Thana Sec.6, Suzuki Show Room,PNT Colony sec5,Menaria Guest House, Hansa Palace, BSNL Road, Sector 3 inside, Nehru Hostel Sec.3, Seva Ashram, Pratap Nagar, GITS
Dwarka Apartment, Satellite Hospital,Lashkary Agrawal Panchyat sec 5,National MisthannBhandar, State Bank of Patiala Sec.4, Vaishali Apartment Road, Jain Temple Sec.4, Pooja Bakery, BSNL Sec 4, Sec 3, Nehru Hostel Sec.3, Glass Factory, GITS
Titardi, Bhadada Pump, Vagad Nursing College, Savina, ShuwalkaBhawan, 100 ft road, Shri Ram Apartment, Samudaik Centre Sec 14,Jain Stone, Rajasthan Hospital,Gurukul school, Chungi Naka Sec 14, Audi show room,EklingGarhChavni, Jawaher Nagar, GITS
Jain Apartment, ManbaiMurdia Hospital, Agarwal Dharmsala, Patel Circle,Kishan Pole, Rang Niwas,KalajiGoraji, Sarvritu Vilas,Surajpole, Science college, Subhash Nagar, Ostwal Plaza, GITS
Rampura, SajjanGarh Colony, SajjanGrah Circle, Mastan Baba Circle, Trident Hotel Gali, Mallatalai, Aravli Hospital, Charak Hostel, Rada jiChouraha, Hindustan Zinc H.O., Railway Colony,Chetak Circle, GITS
Hatipole,Dandpole, Delhi Gate, Shastri Circle, Maya Misthann, Durga Nursery, 100ft Road, University Road, Bohra Ganesh ji Temple,Zinc Smelter, GITS
Bhuvana Bye Pass, Chungi Naka Bhuvana, Celebration Mall, R.K. Circle, Mewar Circle, Meera Nagar, Chitrakoot Nagar, Anushree Vatika, AkshanshVatika, Nagda Restaurent, University Road, Badi Pipli, CTAE Gate, GITS.
Loyara, Chikalwas, Pink Perl Apartment, Badgaon, BadgaonPanchyatSamiti, SaifunChouraha, Fatehpura, SevaMandir, Saheli Nagar, Big Bazar, M.G. College, BhopalpuraMuth, Court Circle, Tokar, GITS
Sukher, Lal Boat Circle, Bedla, Bedla, saifan, Pulla, R K Circle, Mewar Circle, Ashoka Palace, St. Gregoreous School, Eden school, Choti Pipili, st. Taresa School, Ice Factory, Pratap nagar, Pacific College, GITS 
December 2023
M
T
W
T
F
S
S
1
2
3
4
5
6
7
8
9
10
11
12
13
14
15
16
17
18
19
20
21
22
23
24
25
26
27
28
29
30
31