ONE DAY WORKSHOP ON 3D PRINTER (FUNDAMENTAL AND FUNCTIONING)
August 18, 2018

Posted by:

admin

Category:

ME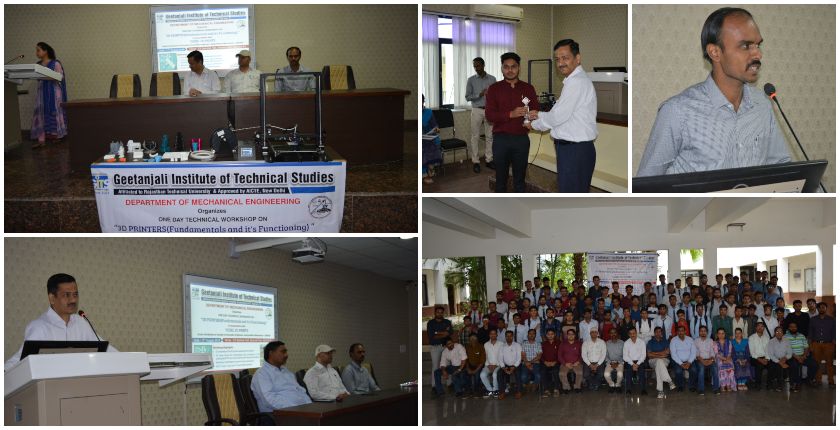 A one day workshop on 3D Printer was organized for Automobile and Mechanical engineering students by the department of Mechanical Engineering in association with Voxel 3dprints. The expert from Garuda3d (a 3D printer manufacturing company based in Hyderabad) Mr. Selvakumaran delivered the fundamental understanding of 3D printer assembly from zero level. Various techniques and processes of 3D printing like FFF, SLA, DLP, SLM etc were explained in detail with live demonstration.
Students of Automobile and Mechanical Engineering, GITS, have jointly created a society, "Society of Innovative Engineers: Automobile and Mechanical", SINEAM. The aim of this society is to inculcate multidimensional qualities within the personality of students through the organization of various activities and events. This workshop was the very first activity under the banner of this society. Now, Students are interested to do lot more activities in the coming time and lean skills like teamwork, leadership, communication, strategy planning and execution etc.
The Director of GITS, Prof. Vikas Misra stated that 3-D printing is an unstoppable force. The printing speed and limited output of 3-D printers made them suitable only for rapid prototyping. But in the coming years, 3-D printers will be at the heart of full-scale production capabilities in several industries, from aerospace to automotive to health care to fashion.
HOD, Mechanical and Automobile Engineering Department, Prof. Deepak Paliwal encouraged students to do lot more activities based on future technologies through the Society created by GITS students.
September 2023
M
T
W
T
F
S
S
1
2
3
4
5
6
7
8
9
10
11
12
13
14
15
16
17
18
19
20
21
22
23
24
25
26
27
28
29
30