MPHASIS RECRUITED 18 STUDENTS OF GITS IN CAMPUS DRIVE HELD ON 22nd Feb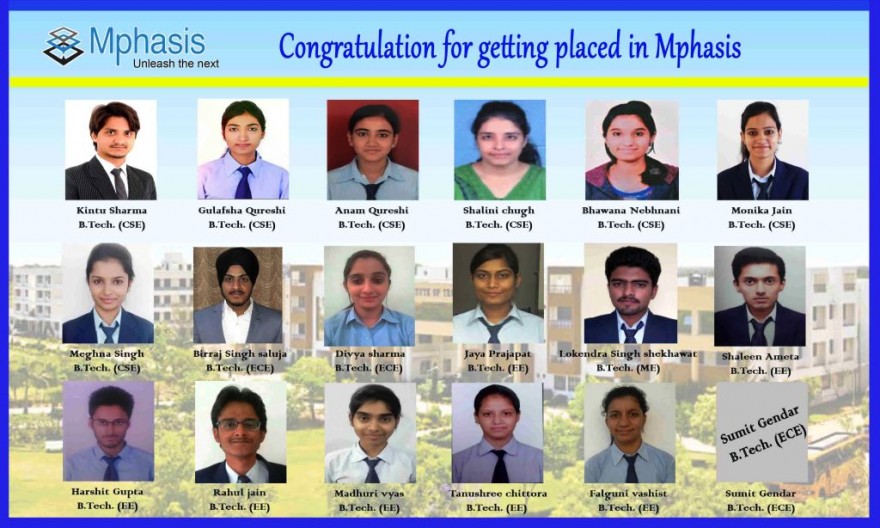 MPHASIS a Bangalore-based IT services company, provides infrastructure technology and applications outsourcing services had selected 18 students of GITS in a campus drive held on 22-23  Feb ,2016.
The recent placements in GITS has added yet another feather to the GITS fraternity and its mission of promoting quality education,excellence and student advancements.
Below is the list of selected students :
Electrical Engineering:
1. Shaleen Ameta.
2. Harshit Gupta
3. Rahul jain
4. Madhuri vyas
5. Tanushree chittora
6. Falguni vashist
7. Jaya prajapat
Computer Science & Engineering:
1. Kintu sharma
2. Gulafsha Qureshi.
3. Anam Qureshi
4. Shalini chugh
5.  Bhawana nebhnani
6. Monika jain
7. Meghna Singh.
Electronics & Communication Engineering:
1.Birraj Singh saluja
2. Divya sharma.
3. Sumit Gendar
Mechanical Engineering:
1.Lokendra Singh Shekhawat:
Congratulations to All.
MPHASIS RECRUITED 18 STUDENTS OF GITS IN CAMPUS DRIVE HELD ON 22nd Feb
September 2023
M
T
W
T
F
S
S
1
2
3
4
5
6
7
8
9
10
11
12
13
14
15
16
17
18
19
20
21
22
23
24
25
26
27
28
29
30