INTERNATIONAL SEMINAR ON HYBRID VEHICLE CHARGING SYSTEM
July 2, 2018

Posted by:

admin

Category:

EE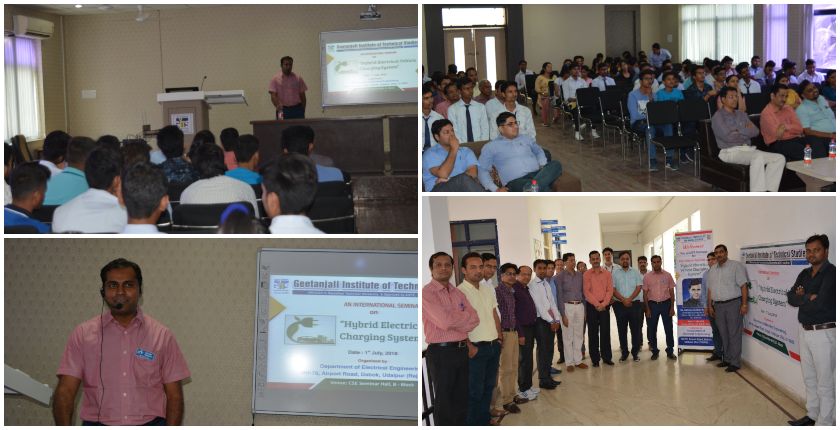 Department of Electrical Engineering has organized an International Seminar on "Hybrid Electrical Vehicle Charging System" on Sunday, 1st July, 2018.
Dr. Rathore shared his International experience in the field of Hybrid Electrical Vehicle Charging System with all the participants came from various institutes. More than 80 participants (Students as well Faculty Members) from various streams have registered and attended the event. Participants learnt a lot from the International resource person regarding Hybrid Electrical Vehicle charging system. Dr. Rathore focused a light on charging techniques of hybrid vehicle namely vehicle to vehicle, grid to vehicle, problems associated with these techniques, and the prospective solution for the problems encountered while charging.
In this seminar, International Resource person was Dr. Akshay Kumar Rathore who came from Concordia University, Canada. Dr. Akshay Kumar Rathore received his B.E. in Electrical Engineering from CTAE, Maharana Pratap University of Agriculture and Technology, Udaipur, India in 2001, the M.Tech. degree in Electrical Machines and Drives from the Indian Institute of Technology (BHU), Varanasi, India, in 2003 and Ph.D. degree in Power Electronics from University of Victoria, Victoria, BC, Canada, in 2008. He had two subsequent Postdoctoral Research Appointments with the University of Wuppertal, Germany, and University of Illinois at Chicago, IL, USA. From November 2010 to February 2016, he was an Assistant Professor in the Department of Electrical and Computer Engineering, National University of Singapore. He is currently an Associate Professor at the Department of Electrical and Computer Engineering, Concordia University, Montreal, Canada. He has published more than 200 research papers in international journals and conferences including 70 IEEE Transactions. Dr. Rathore is an Associate Editor of several IEEE TRANSACTIONS He is a Distinguished Lecturer and Executive Board Member-at-Large of IEEE Industry Applications Society. He received the Gold Medal during his M.Tech. Degree for securing highest academic standing among all electrical engineering specializations. He received the 2013 IEEE IAS Andrew W. Smith Outstanding Young Member Achievement Award, 2014 Isao Takahashi Power Electronics Award, and 2017 IEEE IES Early Career Award. 
September 2023
M
T
W
T
F
S
S
1
2
3
4
5
6
7
8
9
10
11
12
13
14
15
16
17
18
19
20
21
22
23
24
25
26
27
28
29
30