INTERNATIONAL SEMINAR ON DESIGN OF CANTILEVER SHEET PILE WALLS
April 17, 2018

Posted by:

admin

Category:

CE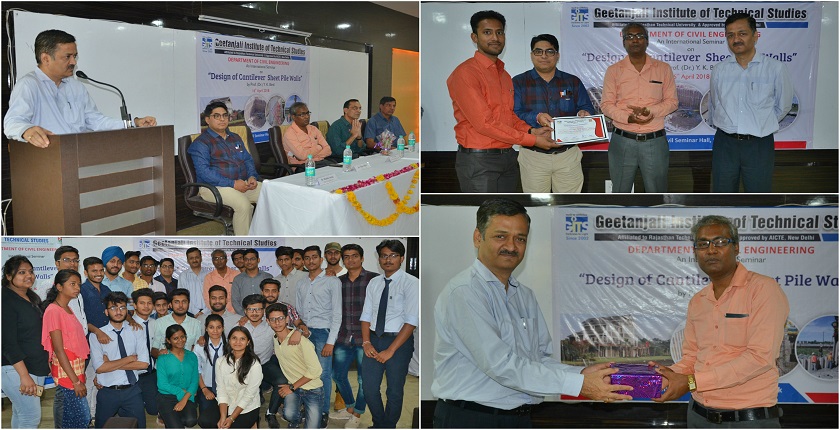 Department of Civil Engineering at Geetanjali Institute of Technical Studies, Dabok, Udaipur, Rajasthan has organized an international Seminar on "Design of cantilever sheet pile walls" on 16th April, 2018 as a part of Continuous Education Program.
The programme started with the lighting of lamp and Saraswati Vandana. Welcome address and scope of seminar was given by Dr. Manish Varma (Dean & Head), followed by words of wisdom from Dr. P.K. Jain (Director, MBA), Dr. Vikas Misra (Director, GITS). After which the expert, Prof. (Dr.) Y. K. Bind, from Department of Civil Engineering, BiT, Bahir Dar University, Bahir Dar, Ethiopia shared his deep knowledge on cantilever sheet pile walls for its design procedures and importance in civil engineering. At the end of seminar, the organizing secretary, Gopal Paliwal, thanked the expert for their lecture and all faculty members of the department as well as all participants for their active participation and support. Around 100 Participants from various institutions of India were present during the seminar.
Concept:
The core concept of the seminar is to motivate the academicians and young researchers about the advancement in the geotechnical portion of civil engineering by explaining the design of cantilever sheet pile walls, which is a vertical structural element embedded in the ground below the retained material. It derives its stability entirely from the lateral resistance of the soil into which it is driven. The main objective of sheet pile walls is to prevent overturning of water front structures. Sheet piling is also used for beach erosion protection; for stabilizing ground slopes, particularly for roads; for shoring walls of trenches and other excavations and for cofferdams.
Objective:
The objective of the seminar was to provide detailed knowledge and design procedures of the cantilever sheet pile walls into cohesive and cohesionless soil. It covers active and passive earth pressure on the cantilever sheet pile wall for the design purpose using numerical and analytical methods like finite element analysis.
Content of the Seminar:
Introduction to cantilever sheet pile wall.
Active and passive earth pressure on the wall.
Design steps of cantilever sheet pile wall.
Analytical analysis with finite element method for designing purpose.
Comparison of results with numerical methods.
Types of Software used in the analysis for designing.
Conclusion:
Participants will obtain a deep insight of sheet pile work in the field; which in turn helps them to apply it in real practice or as a foundation to a deeper study.
December 2023
M
T
W
T
F
S
S
1
2
3
4
5
6
7
8
9
10
11
12
13
14
15
16
17
18
19
20
21
22
23
24
25
26
27
28
29
30
31