GITS LAUNCHES ITS AMBITIOUSLY INNOVATIVE ATV CAR IN PRESENCE OF COLLECTOR Mr. ROHIT GUPTA
June 1, 2016

Posted by:

admin

Category:

ME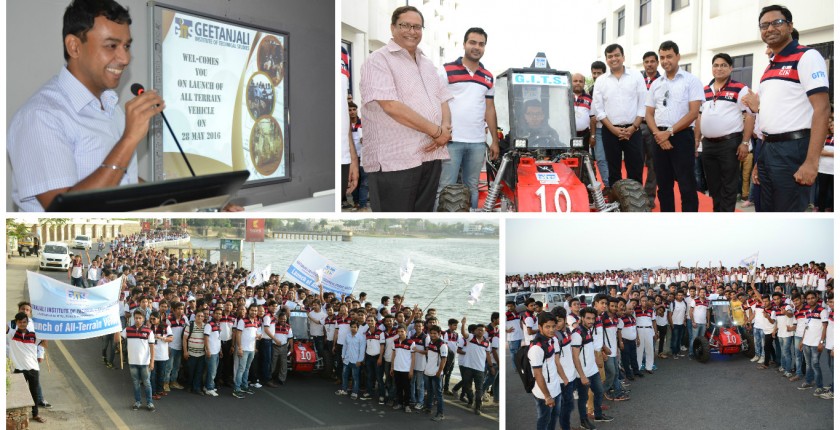 On Saturday, 28 th May 2016, Geetanjali Institute of Technical Studies launched its State- of- the –Art vehicle, the All-Terrain Vehicle- Car to the public at an august function in the GITS Campus, followed by a rally at Fateh Sagar.
The car was conceived, designed and fabricated by the final and pre- final year students of Geetanjali Institute of Technical Studies as a students' project, and funded by Geetanjali Education Society, Udaipur. The project won an All India 18 th Rank among the 54 teams from across India and ranked No. 1 in the state of Rajasthan at the  challenge of mega ATV championship organized at Bhuvneshwar, Orissa.
The innovatively designed ATV Car was inaugurated by the Collector and DM of Udaipur, Mr. Rohit Gupta who congratulated the students, the faculty, and staff members of GITS for their sustained efforts to innovate and develop better technologies and for achieving the first position in all of Rajasthan in the competition. He appreciated the efforts of the Geetanjali Education Society for motivating the staff and students by providing opportunities to develop such technologies and products, and most importantly for the use and application of education beyond the frontiers of books to developing products that can be used for the common good and make India a nation of technically sound and skilled workforce.
The Guest of Honour Mr. L.N. Mathur commended the contribution of the Geetanjali group for its developing & offering programmes and services that respond to and meet the emerging needs of people; by helping people to tap the hidden potential of students and their mentors, directing it for their own success and for the advancement of the country. The inauguration was followed by a Rally at the Fateh Sagar Lake, Udaipur, where all GITSians came together to exhibit and applaud the endeavour of the innovative and creative aptitude, resilience and dedication of the team of 15 proliferating engineering students of ME/AE/EE streams, the RECKONING QUARTER and their mentors, Dr. Manish Varma, Prof. Rajeev Mathur and Mr. Vishnu Agarwal, who worked endlessly for 5-6 months on the design and manufacturing aspects of this ATV.
ALL TERRAIN VEHICLE / ATV – is a special purpose vehicle meant for on-road / off-road travels and riding in different terrain conditions, which can be conveniently used as a medium for adventure sports as well as a utility vehicle for real-time- critical-conditions like during the disasters, for places that cannot be accessed easily by regular modes of transport. Our ATV is tried and tested in different rough terrain conditions and promises comfort and safety for the driver.
GITS LAUNCHES ITS AMBITIOUSLY INNOVATIVE ATV CAR IN PRESENCE OF COLLECTOR Mr. ROHIT GUPTA
June 2023
M
T
W
T
F
S
S
1
2
3
4
5
6
7
8
9
10
11
12
13
14
15
16
17
18
19
20
21
22
23
24
25
26
27
28
29
30