GITS INVITED TO IIT-KANPUR FOR NPTEL FELICITATION PROGRAMME
August 5, 2019

Posted by:

admin

Category:

News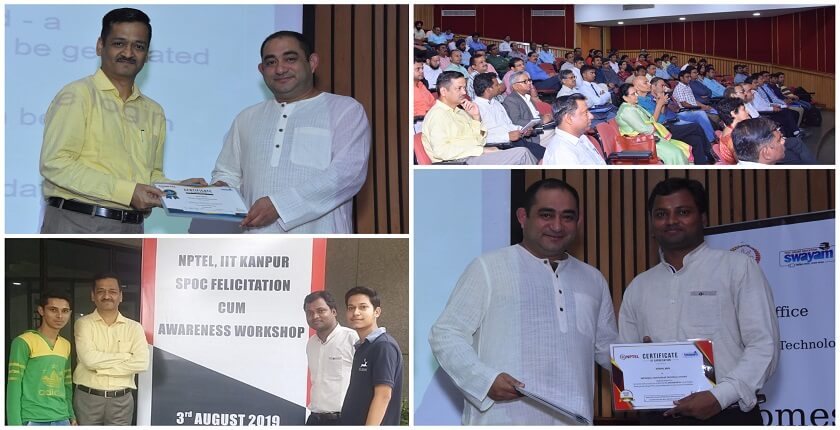 It was a matter of pride for GITS as the Director, Dr. Vikas Misra and Dr. Vishal Jain, SPOC of NPTEL Local Chapter at GITS were invited and Felicitated at IIT, Kanpur with two Top Performing Mentor Certificates received by our faculty members, Dr. Mayank Patel (CSE) and Asstt. Prof. Ms. Charu Kavadia (CSE).
Moreover, it was a big accomplishment for two of our B.Tech. (ME) students, Arjun and Deepak Soni who were offered 8-week Internship, from 25th June to 20 August 2019, at IIT Kanpur alongwith a stipend of Rs. 10000/-. Arjun, B.Tech-ME, received "topper of 5 %" in Principles of Casting technology and Manufacturing Process Technology courses and three certificates with ELITE TAG from NPTEL. He is presently pursuing internship in "Manufacturing Process Technology" and is working on "Nanotechnology" boron nano particles synthesis under Prof. Shantanu Bhattacharya.Deepak Soni- 3rd year B.Tech-ME student received a Gold certificate (91%) and topper of 2% all over India in Principle Of Casting Technology and Silver certificate (87%) and Topper of 2% all over India with in Manufacturing Process Technology. For his Internship under Professor Shantanu Bhattacharya, he is working on two projects: Formation of Super hydrophobic Silica gel then printing of this gel to any surface for high strength, and Project on Finishing of Camshaft (in engines).
The Management expressed happiness for GITS- NPTEL Local Chapter on securing the 1st position in Rajasthan and 109 in Active Swayam NPTEL in all-over India and stated that NPTEL provides a great opportunity to academic institutions, students and working individuals to avail online education from the best institutes in India and enhance learning and depth of understanding of particular subjects across various domains.