GITS HOSTS INDUSTRY INSTITUTE INTERACTIVE CONCLAVE
September 17, 2019

Posted by:

admin

Category:

News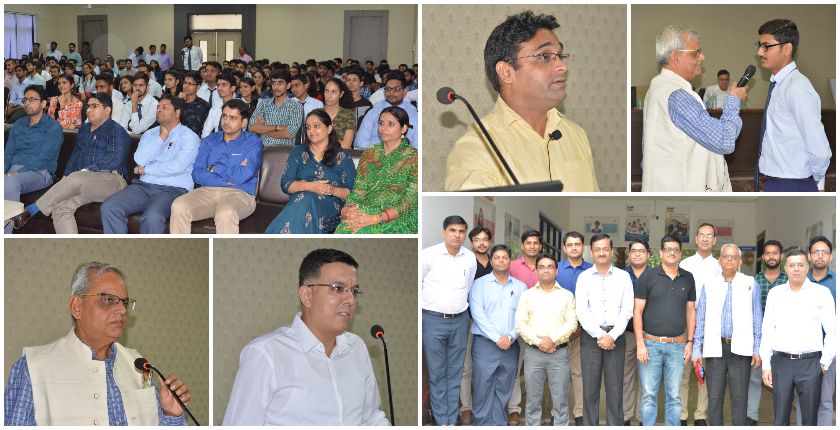 GITS conducted a Industry-Institute Interactive Session to bridge the gap between the industry and institute. It was a full-day event in which the industry tycoons interacted with the students and gave briefing about the current and forthcoming challenges the students have to face. The speakers joining the session were very experienced and renowned and ensured the enlightenment and motivation of the students.
The event commenced with the ritual of lamp lighting followed by an introduction and a speech by Director, Dr. Vikas Misra. The interactive session by Dr. N.K. Sharma, DGM-HRD & CSR, JK Tyre & Industries Ltd., began by him asking questions like, 'What is Innovation?', 'What is Creativity?' and 'What is reverse engineering?' He threw light upon the various practical aspects of working in an organization and the requirement of qualities like Creativity, Fluency and Flexibility to develop a thought process that enables idea generation at a constant rate to solve problems. He emphasized the fact that innovation is the key to success for every step, past and ahead. He introduced the students to the term "Funnel Impact" for getting the priorities right; for keeping a check on their knowledge; and to direct their life in a correct discipline.
Dr. Sharma ended with quote from Martin Luther King "I Have a Dream" and urged the students to live by it.
The next speaker, Shri Shalendra Singh, AGM-HR, Nuvoco Vistas Corp Ltd. (formerly Lafarge India Ltd.) shared his life experience and quantified the various analogies that an individual faces in an organization; he added that 60% of the new employees leave the firm after working for just about 1-1.5 either pursuing higher studies in management or other fields. He explained the future of engineers using the Theory of Organizational Engineering as "PE X OE = POXE"; where PE is personal engineering and OE is the Organizational Engineering which after multiplying produces Personal Organizational Excellence. He also added the importance of "Templating" in various organizations and how one has to fit and update him/her self to make space in the profound template of the firm. He further asked pupils to develop agility, self-awareness, flexibility and adaptation qualities to grow in life as well as in an organization.
Founder and Managing Director of Fusion Business Pvt Ltd., Shri Madhukar S Dubey advised the students to not be complacent but take up challenges. He started by stating 'life is straight, what changes us other than our own mistakes'. He shared his life's journey; how he worked at a friend's furniture shop, waved through in the final years of school, yet making it big in the end. Failed everyday but failed to try to learn from the mistakes. Mr Dubey asked the student's to share and radiate an optimistic and positive environment around them no matter what the situation or how challenging the obstacles. He said money on development can only be achieved by innovation, re-doing the efforts of others (ctrlc+ctrlv) is of no help. Mr. Dubey ended with stating losing is easy, winning isn't. Don't ask for salary, ask for challenges.
The final Keynote Speaker for the event, Shri Sanjay Sharma, Head -Strategic HR Projects, Hindustan Zinc Ltd. (a subsidiary of Vedanta Resources PLC, spoke on the importance of up-scaling current skill sets. He also gave a few pointers on how to prepare for an interview. He concluded his session with- 'To be successful you have to be persistent.'
The Interactive session concluded by presenting of mementoes as tokens of gratitude. The event was a huge success and was followed by screening of a technological movie for all the students.
June 2023
M
T
W
T
F
S
S
1
2
3
4
5
6
7
8
9
10
11
12
13
14
15
16
17
18
19
20
21
22
23
24
25
26
27
28
29
30