GIL LAUNCHED REAL TIME AND QUALITY MONITORING PROJECT
March 7, 2018

Posted by:

admin

Category:

CSE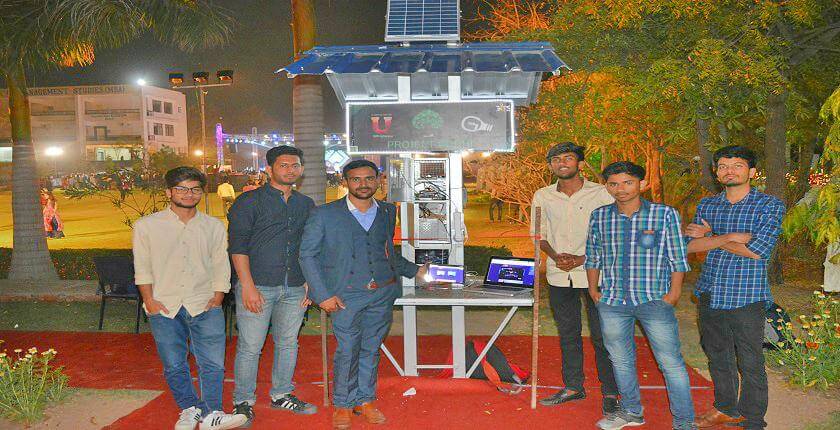 Geetanjali Institute of Technical Studies, Dabok has launched Real Time and Quality Monitoring Project by Geetanjali Innovation Lab.
GITS director Dr. Vikas Misra conveyed that the BODHI named project is a kind of solar tree that monitors the real time Air quality and side by side it also measures the temperature. This solar tree can work like smart PC and it can charge more than 5 mobile phone and laptops simultaneously. It also provides lights at night. This project was done under the guidance of dean R & D Dr.  Raghuveer (Head of the department CSE) with the help of students Deependra gadhwal, Mukul Tated, Nirmal Suthar, Bhaya Mathur and Gulashan Jaman.
During inauguration ceremony of solar tree (BODHI) Chairman of GITS Group J.P Agarwal conveyed that it is the matter of pride and privilege for us so as to initiate the same project in the Udaipur rural area with the assistance of Udaipur nagar nigam. On this occasion Chairman Sir granted sum of rupees 10lac for the research and development programme as a financial assistance.
Chairman of GITS Group J.P Agarwal congratulate the students for 2 new projects selected in smart india hackathon 2018. The main feature of this project is that once you connect solar tree with mobile phone. Mobile phone contact will automatically save in solar tree. We can fetch that contact at the situation of mobile lost. By solar tree emergency call can be done. In this solar tree there is a SIM card.
December 2023
M
T
W
T
F
S
S
1
2
3
4
5
6
7
8
9
10
11
12
13
14
15
16
17
18
19
20
21
22
23
24
25
26
27
28
29
30
31