GE HEALTHCARE CONDUCTS A 3-DAY WORKSHOP IN DESIGN THINKING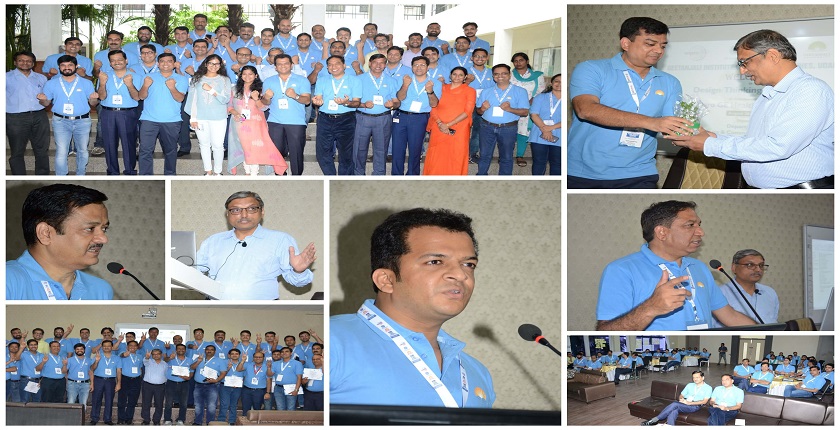 A flagship 3-day workshop was conducted in Geetanjali Institute of Technical Studies in collaboration with Geetanjali Medical College and Hospital (GMCH) on Design Thinking to provide an excellent learning opportunity to enhance creative thinking and innovative problem solving techniques among the students and faculty members.
The hand-on exercises and activities organised and conducted by Mr. Mahendra Patil, Principal Engineer, GE-Healthcare trained the young engineers to explore beyond the regular academic curriculum. He informed that GE, a flag-bearer of innovation and technological development and GE-Healthcare designs tools and medical equipment to help medical professionals make accurate diagnosis of diseases and its treatment.
Sh. Kapil Agarwal, Vice Chairman-Geetanjali Group, Sh. Ankit Agarwal, Executive Director, Geetanjali Group, Ms. Kanika Agarwal, Director- Geetanjali Group, Ms. Shruti Agarwal, Director- Geetanjali Group, and Sh. Pritam Tamboli, CEO- GMCH were present during the workshop valedictory function.
Sh. Ankit Agarwal, Executive Director, of the Geetanjali Group conveyed to all the participants the vision of Sh. JP Agarwal Saab, Group Chairman to have health and education simultaneously with various industries since 1989. As a visionary and philanthropist, he established the Geetanjali Group to empower the youth through quality education in diverse fields. He further added that we have successfully crossed many vital milestones and grown with each step; and undertake to continue our path towards excellence. He expressed his intention to promote engagement with the industry through Institute- Industry Interactions and MoUs to enhance quality of education and employability of our students.
Dr. Vikas Misra, Director –GITS informed that GITS provides access to workshops and training opportunities to its students under MoU with GE-Healthcare and other reputed organisations. Workshops such as these broaden their perspectives and increases their awareness and knowledge about the latest technologies used in the industry.
Mr. Mahendra Patil trained 30 participants from Engineering and MCA branch to expand their thinking patterns and use and apply Design Thinking tools to devise Innovative Solutions to solve problems that we encounter in our daily lives.
The workshop inspired the students and filled them with fresh ideas and enthusiasm.
December 2023
M
T
W
T
F
S
S
1
2
3
4
5
6
7
8
9
10
11
12
13
14
15
16
17
18
19
20
21
22
23
24
25
26
27
28
29
30
31