FDP ON AUTONOMOUS ROBOTICS AND AUTOMATION
May 29, 2019

Posted by:

admin

Category:

ME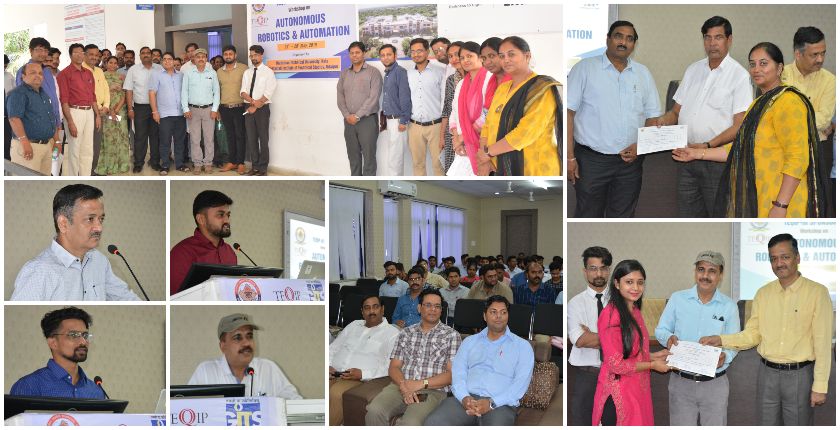 Two days FDP on Autonomous Robotics and Automation, sponsored by RTU (ATU, TEQIP III) has been organized by Geetanjali Institute of Technical Studies under the leadership of Dr. Vikas Misra on 28th and 29th May 2019.
This FDP was conducted under the supervision of Dr. Deepak Bhatia, RTU Event coordinator and resource persons from GEEKSlab technologies PVT.LTD. (in association with AIESEC ,IIT Delhi) Mr.Vaibhav Gupta and Mr.Anshul Verma successfully demonstrated the content during two days.  Dr.Vikas Misra ,director GITS who was also the chief convener of the FDP  welcomed the guests and the resource persons saying that this workshop was a good initiative for introducing the participants with the latest conceptualize robotics. Dr.Deepak Paliwal, Head ME department as a convener of the program stated that through this program participants will feel the power of integrating computer science, electrical, electronic and mechanical engineering. This process involves the smart linking of sensors and systems to improve the human comfort which in-tern can perform complicated task in easy way. 
The objective of the FDP was to acquaint the participants with the intelligent sensors, structural and dynamic analysis of the robots and Autonomous Robotics. This conceptualize workshop had a technically updated curriculum which covered all basic and in depth topics related to autonomous robotics. Participants learnt the robotics engineering, automation technology and got better understanding and grip on its applications. Participants skillfully developed the all IR feed based robots, learnt about cell phone control robots, gesture control robots and technologies to make their robots wireless. The workshop inculcated numerous hands on sessions on designing, analyzing and building robots that formed basic to advance building blocks for different robotics technology, embedded and automation technology.
During workshop Robotics tool kit was provided to each group of 5 participants for hand on learning. The 2 days FDP was conducted in 4 sessions which covered the following main points:
Introduction to Robotics and Basics of Robot Construction
Mechanical system: Actuators in Mechanism
Electronic circuitries and Microcontroller
Programming and animation on LEDs
Designing of line tracker based robots
December 2023
M
T
W
T
F
S
S
1
2
3
4
5
6
7
8
9
10
11
12
13
14
15
16
17
18
19
20
21
22
23
24
25
26
27
28
29
30
31