FDP ON AUGMENTED REALITY – VIRTUAL REALITY
June 22, 2019

Posted by:

admin

Category:

CSE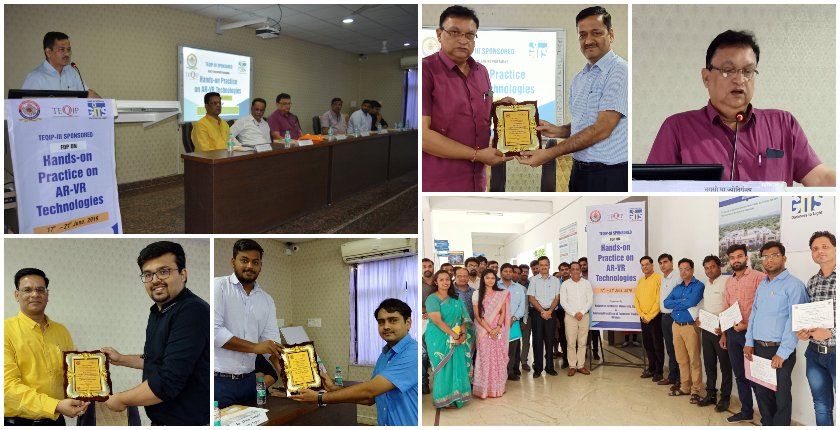 Geetanjali Institute of Technical Studies (GITS) Dabok, Udaipur in association with RTU, Kota under the banner of TEQIP-III conducted five-day Faculty development programme titled AUGMENTED REALITY – VIRTUAL REALITY (AR-VR) from 17th to 21st June 2019.
Convener FDP Dr. Amit Sinhal (Head CSE) brief about the 5-Day Faculty development program.The Thirteen session of this Programme were taken by Industry and Technical Expert from IIIT Hyderabad, namely Mr. Shivang Shekhar and Mr. Akshay Nandgiri. They started with a brief discussion on AR & VR. Then he showcased the latest virtual reality and augmented reality devices like Pico goblin, HTC vive, Google cardboard, etc . The main focus of the FDP was how education can be enhanced using VR and AR. The participants were also enlighten about the various form of usability that have been achieved with the limited amount of controls with the devices. The present state of AR and VR devices have been heavily experimented to achieve a much more comfortable experience to the user. All the sessions were very informative. Participants were educated on the most widely used advance strategies in Augmented Reality and Virtual Reality. The participants gained fundamental knowledge of Unity Game engine. Further, there held a doubt clarification session, in which our participants sought specific knowledge on these latest technologies and cleared their doubts.
Receiving an overwhelming response from participants, the five-day FDP on AUGMENTED REALITY – VIRTUAL REALITY (AR-VR) came to an end with the Valedictory Session, graced by Hon'ble RTU Coordinator, Dr Vivek Pandey. On 21st June 2019 (the last day), post-lunch, certificates were distributed to the participants. Dr. Vivek Pandey, Director,GITS – Dr Vikas Misra and Finance Controller – Mr. B L Jangir honoured the participants with the certificates. Vote of thanks was delivered by Dr. Mayank Patel. The participants were share their experience and learning from the program. The program concluded on this happy note. The Event was conveyed by Ms Ruchi Vyas.
September 2023
M
T
W
T
F
S
S
1
2
3
4
5
6
7
8
9
10
11
12
13
14
15
16
17
18
19
20
21
22
23
24
25
26
27
28
29
30