FAMOUS GERMAN ORCHESTRA PRESENTED MUSIC AT GITS !!!!
May 27, 2016

Posted by:

admin

Category:

News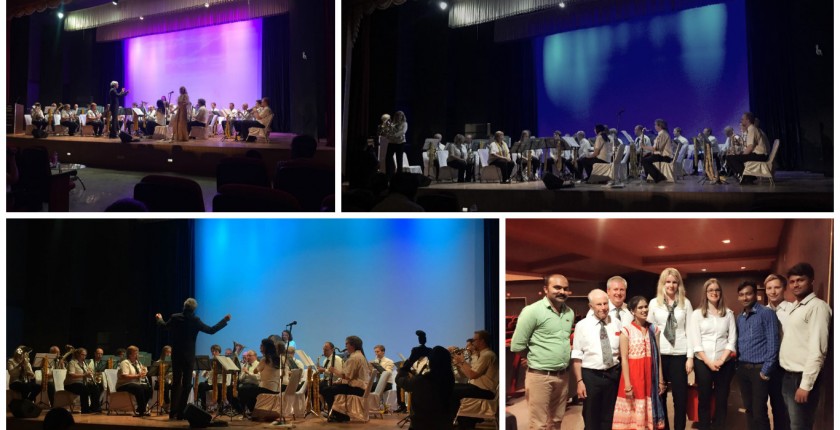 The 23rd of May 2016 was an evening of musical extravaganza with the performance of the German wind Orchestra, Steinhaus-Orchester Besigheim at the GMCH Auditorium, organised by the Geetanlaji Institute of Technical College and GMCH, in association with the Academy of Well- Being Society, Udaipur Chapter and the Indo – German Society, Jaipur Chapter.
Mrs. Vijayalaxmi Chouhan, the President and the founder member of the Academy of Well-being Society and Dr. Jayshree Singh, a life member of Indo-German Society in Udaipur, extend their sincere and hearty welcome to the Musical Concert Group members, the Chief Guests, Mr. Kapil Agarwal and Mr. Ankit Agarwal  as well as  to all the distinguished guests  whose august presence graced the event.
The "Steinhaus-Orchester Besigheim"  was conducted by the distinguished Herr Roland Haug with musicians aged between 18 and 80 years, from the area of Ludwigsburg, north of Stuttgart, Germany and have toured many countries like South Africa, Chile, Namibia, Paraguay, Brazil and Mexico. Their repertoire included concert music for wind orchestra, easy listening music from popular musicians and offered the audience a wonderful palette of musical textures and tones created by Flutes, Clarinets, Bass-Clarinet, Saxophones, Bugles, Trumpets, Euphoniums, Baritone, Trombone, Tubas, Drum-Set, Percussion etc.

The orchestra began the evening with the hauntingly enchanting melody and the evergreen hit "My Way" from Frank Sinatra played to a full house at GMCH Auditorium, followed by mesmerising renditions of  Leichtes Blut composed by the classical maestro, Johann Strauß Jr., Mirage and the tantalizingly Funny Piece – Mouth Piece Mania and  the body percussion, the  Rock Trap.

Kaatje Dierks, the German singer and actress in musical theatre, enthralled the audience by her a powerful high range vocal abilities as she belted out the utopian's dream "Over the Rainbow, what A Wonderful World" and the Vicky Leandros Medley.     
The evening ended with a standing ovation to the orchestra and was indeed a memorable experience for the entire GITS family as they we were exposed to a different style of music and were introduced to new ways of interacting with music, enjoying and sharing the positive messages and powerful emotions that were created through the orchestral performance.