ENTREPRENEURSHIP DEVELOPMENT PROGRAM ON INNOVATIVE THINKING & DESIGN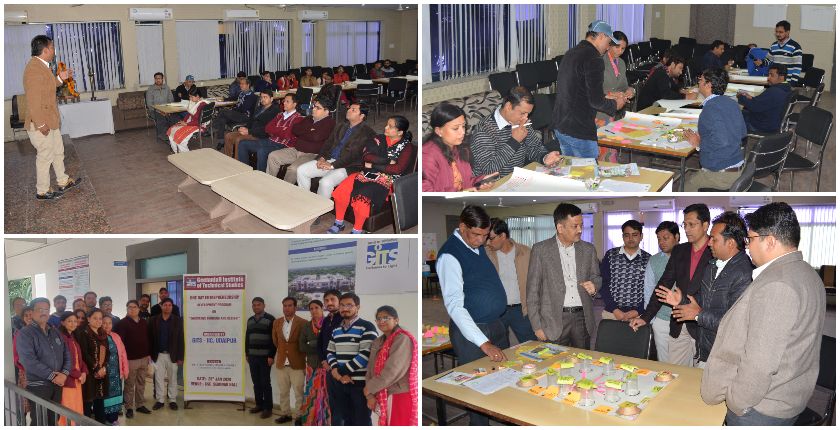 One day entrepreneurship development program on "Innovative Thinking & Design "has been organized by GITS-IIC on 25th January 2020. This was conducted with the overreaching purpose of promoting a culture of innovation & entrepreneurship within the faculty members. The ambassador of GITS-IIC Dr. Vijayendra Singh Sankhla leaded the whole program. The program was divided into four sessions.
Session I consists of self awareness, importance of attitudes, values & personal growth. Many in-class exercises were performed on awareness.
Session II involved curiosity through empathy in which participant were engaged in each other's perspectives & simulated the environment to elicit maximum empathy. Also the session consist of research methodologies for the problem areas selected. The participants in this session learned the importance of collecting information in multiple formats for the purpose of documentation for research. Exercises on developing empathy were also performed.
Session III was related to prioritization & interconnection in which participants created clusters of information to understand methods of learning followed by making decisions related to terminating unrelated observations. Participants created conceptual & relational maps to understand systems in general & utilize the information to find loopholes 7 gaps in systems to be selected as problems to be potentially solved .Creativity was also the major part of the session in which unique solutions to the given problems were designed by the participants & they channelized the resources according to the requirement in the environment involving feasibility, viability & desirability.
Session IV consisted of creating an appropriate environment in which participating team had to derive the final prototype & were to engage themselves in constructive criticism. Participants in this session were able to learn variations in their business models & also learned to improve presentation skills.
September 2023
M
T
W
T
F
S
S
1
2
3
4
5
6
7
8
9
10
11
12
13
14
15
16
17
18
19
20
21
22
23
24
25
26
27
28
29
30