ENGINEERING STUDENTS OF GITS SHINE ON ROAD WITH ELECTRIC & SOLAR CARS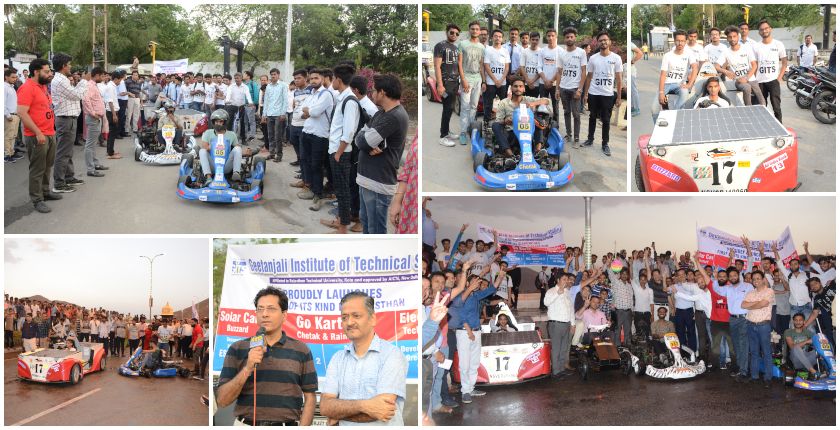 Innovative Solar and Electric Cars manufactured by Students and Staff members of the Mechanical Engineering Branch of Geetanjali Institute of Technical Studies, Dabok. These Cars are demonstrated in Car Rally on 1st June 2019 at Fateh Sagar Lake at 6:00 PM.
Dr. Vikas Misra, Director GITS, conveyed that Chetak, Raina, Buzzard and Techie Prophet Solar & Electric Cars were being participated in this Rally. All these cars have been victorious in various competitions held at National Level. He Congratulated all the faculty members and students, said that being victorious at the national level is a huge achievement. These all Cars were developed by a group of students and faculties of AUTOMOBILE and MECHANICAL Engineering. They designed these vehicles right from scratch.
HOD Mechanical- Dr. Deepak Paliwal said that GoKART-Chetak got 10th rank in JSKC 2019 held in Jaipur. GoKART – Raina got 18th rank in IKC Feb 2019. In these championship many cars form different institutes all over nation and international level has been participated.  In this sequence Solar Car Buzzard participated and got 13th rank in Asia's biggest championship held at N.S.V.C-2019 Bangalore. Electric Car Techie Prophet kept for clean energy safety in GITS.
Program Coordinator Mr. Rajeev Mathur told that for the first time, the car was built by the students in 2016, and after that Students of GITS are doing continuous effort on the same in the field of research and innovations.
Rally Coordinator- Dr. Manish Verma conveyed that with the endless efforts of the students of GITS and Faculty Members, we have reached to this point of success. Due to this Manufacturing of 09 cars, 02 lake cleaning machines, 01 electrical cars and 01 electrical bicycle has been possible by GITS.
Mr. B L Jangir, Finance Controller conveyed that Our country is moving towards smart city nowadays, using such a Cars will prove useful. The main purpose of creating these type of eco-friendly vehicles is to reduce the pollution in the environment by using natural resources.
During this program, many engineering students organized a rally with these innovative Solar and Electric Cars on the sidelines of Fateh Sagar for the purpose of encouraging youth.
Dr. P K Jain – Director MBA, HODs, faculty members and students of GITS were present on this event.
ENGINEERING STUDENTS OF GITS SHINE ON ROAD WITH ELECTRIC & SOLAR CARS
December 2023
M
T
W
T
F
S
S
1
2
3
4
5
6
7
8
9
10
11
12
13
14
15
16
17
18
19
20
21
22
23
24
25
26
27
28
29
30
31