E-CLINICAL WORKS RECRUITED 4 B.TECH STUDENTS FROM POOL CAMPUS HELD @GITS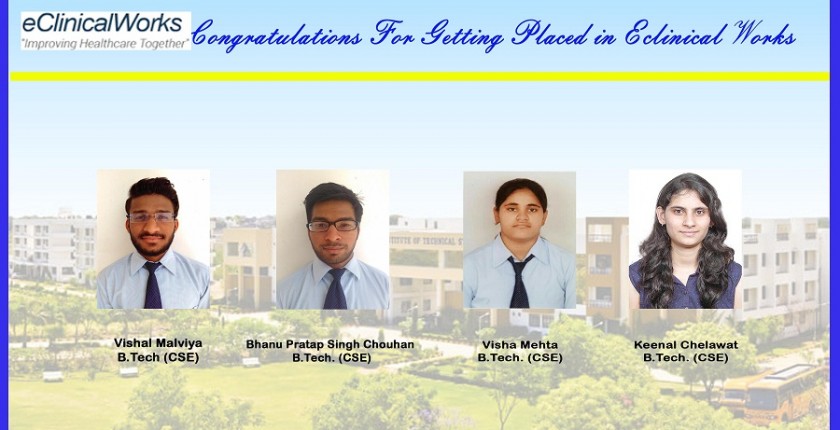 E-ClinicalWorks ,a privately-held, leader in ambulatory clinical solutions and cloud-based EHR in the industry with over 115,000 providers and 800,000 medical professionals had recruited 4 B.tech CSE students in a pool campus drive held @ GITS on 4th, April 2016. 
The selected have been offered a post of Software Developer and annual package of Rs. 3.5 Lakh at Ahmadabad location.Total 350 students participated in this mega pool campus drive from various colleges of Udaipur, Bhilwara, Jaipur and finally 5 students were selected among which 4 students were from GITS.
The selected students are:
Bhanu Pratap Singh, B.Tech CSE Final Year
Mehta Visha, B.Tech CSE Final Year
Keenal Chelawat, B.Tech CSE Final Year
Vishal Malviya, B.Tech CSE Final Year
We congratulate all.
June 2023
M
T
W
T
F
S
S
1
2
3
4
5
6
7
8
9
10
11
12
13
14
15
16
17
18
19
20
21
22
23
24
25
26
27
28
29
30