CAMPUS INTERVIEW OF INNOVSOURCE PVT. LTD.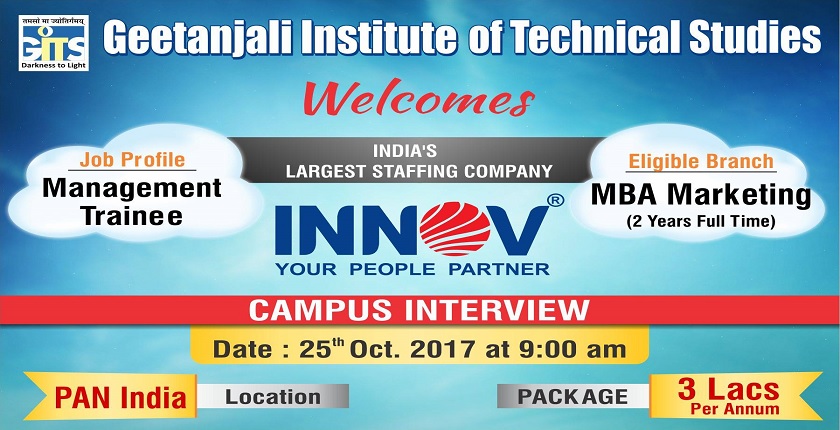 GITS is organizing the Campus Interview of Innovsource Pvt. Ltd. ( India's Largest Staffing Company) for our MBA students with the Package of 3.00 Lacs Per Annum for Management Trainee profile on 25th Oct. 2017 at 9:00 am.
Company Profile:
Innovsource is Staffing, Facilities Management, Security Service Provider and professionally managed company with Pan India presence.The company was incorporated in the year 2004.Innovsource is a leading manpower outsourcing company ranked among the top 4 staffing companies in India. we offer a gamut of Staffing services to our customers. In the past years, we have emerged as a preferred Staffing service partner of several leading companies in India. With our corporate office in Mumbai and full-fledged offices in Delhi, Bengaluru, Chennai, Kolkata & other cities, we have a national footprint with presence in 45 locations across the country manned by 750 people. Our vast network of offices across the country enables us to be within reach of clients and associates.
Job Profile- Profile: Management Trainee
SBU: Staffing (Business Development -Field Corporate Sales) Package: 3.00 LPA + Benefits
Location: PAN India
Eligibility: MBA – Marketing (2 Years full time)
Behaviour Skills: Proactive with Excellent Leadership & Communication Skills (Oral & written)
Selection Process:
1. Pre Talks – Company Introduction, Q&A
2. Interview – Round of PI will be conducted
Job Profile:
1) Identifying & Generating Prospects of New clients.
2) Marketing Temp Staffing Services to Corporate Clients in given territory.
3) Developing Strong Client relationship & New Business development.
4) Ensuring achievement of corporate sales target.