CAMPUS INTERVIEW OF ARORA'S J K NATURAL MARBLES LTD.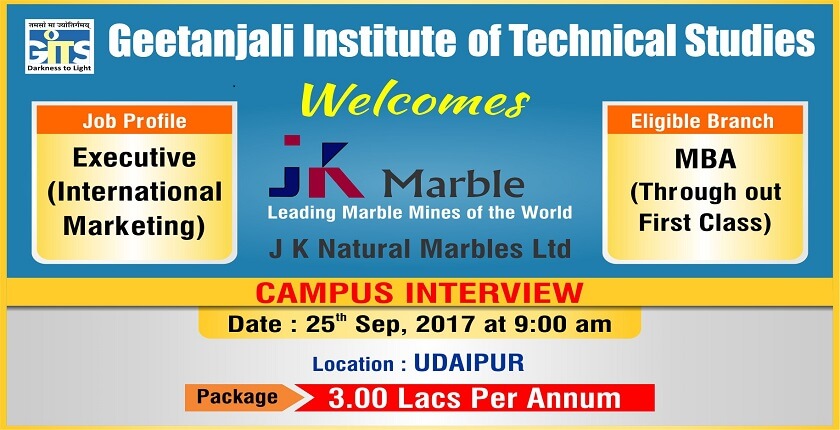 GITS is organizing the Campus Interview of Arora's J K Natural Marbles Ltd. for the Profile of Executive (International Marketing) of our MBA students @ Package of 3.00 Lacs Per Annum on 25th Sep, 2017 at 9:00 am.
Company Profile:
The Arora's J. K. Natural Marbles Ltd. was incorporated in Feb 1995 and promoted by Shri Daya Singh Arora, Shri Jag Mohan Singh Arora, and Shri Kuljeet Singh Arora to take over the marble business of M/s J. K. Marbles & Minerals. Mr. D.S. Arora established it in 1982. The main business of the company is excavation of marble blocks and by product for which company have about 20 leases of marble sanctioned and allotted by the Govt. of Rajasthan. The total area of mining is about 20 Hectors. During last years the company exacted the marble blocks and loads of about 1.2 lacks M. T. The company is in the process of getting the new mining lease from the Govt. of Rajasthan and other state Govt. J.K. marble is one of the leading marble producers in India and They have the ability to extract about 4,00,000 metric tonnes of marble every year.
Job Details & Package Offered:
Job Profile: Executive (International Marketing)
Eligible Branch: MBA
Only throughout first class candidates will be considered for this position. Below 60% will not be entertained.
Package: CTC: 3 Lac/annum and No bar for right & deserving candidates
Date: 25th Sep, 2017 at 9:00 am
Skill Required:
Candidate must be having good command over English Communication (Oral and Written).
Must be convent educated.
Good command over computers.
Strong IQ and Analytical Skills.
Pleasant Personality.
Must be willing to travel anywhere in India and Abroad.
Candidate having valid passport will be preferred.
Selection Procedure:
Round 1: Presentation & Personal Interviews will be taken by HR Officials at GITS
Round 2: In this round only Qualified round 1 candidates will be interviewed through panel discussion. Round 2 will be only at Company Office.
September 2023
M
T
W
T
F
S
S
1
2
3
4
5
6
7
8
9
10
11
12
13
14
15
16
17
18
19
20
21
22
23
24
25
26
27
28
29
30