CAMPUS INTERVIEW OF APP PERFECT CORPORATION
February 25, 2019

Posted by:

admin

Category:

Placement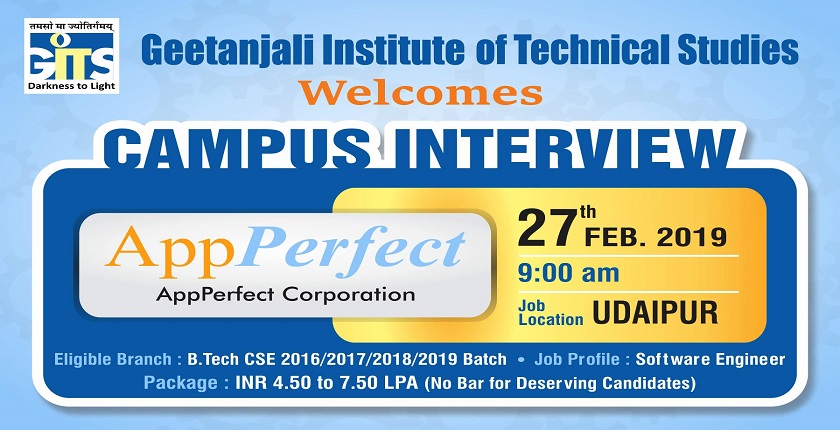 GITS is organizing the Campus Interview of App Perfect Corporation for B.Tech (CSE) 2016/2017/2018/2019 Batch students for Software Engineer @ Package of INR 4.50 – 7.50 LPA (No Package limit for deserving candidate) for Udaipur Location on 27 February 2019 at 9.00 am.
COMPANY PROFILE

App Perfect is a Cupertino, CA based software development company established in year 2003. We provide products and services in development, testing and monitoring domains. Our tools covers almost all phases of a Software development life cycle. You can get more details on the clients, products and services we provide on our website at http://www.AppPerfect.com
Job profile :
Includes, but is not limited to, the following duties:
Develop, enhance and maintain software applications that the company markets and sells.
Develop new modules based on provided specifications.
Enhance existing modules with new features.
Fix bug and provide general maintenance of existing software modules.
Additional duties include interacting with customers to resolve implementation issues and write and review product documentation.
Eligibility criteria :
Students graduating from CSE branch are eligible. MCAs and M.E. students won't be eligible. Students should have good programming skills in C/C++ and Java. Should have good knowledge on Object Oriented programming concepts, Software development life cycle, Data Structures, Database Management, Design patterns & Operating System internals.
Selection process :
Student's programming skills will be judged by a programming test. Students can appear for test in either C or Java. We recommend students to go through the following link for preparation of this programming test.
http://www.codechef.com/problems/medium
Our programming test follows the same format for Input / Output specification. Students will be given a problem and 2 hours' time to solve it. Instructions regarding the submissions of the program will be provided during the test. Students need to clear the programming test to move on to the next round. Only those who clears the programming test will be selected for the next round of Technical & HR interview.
Package Details :
The CTC would be in range of 4.5 LPA to 7.5 LPA which would vary depending on candidates overall performance during recruitment test.