BURN THE FEAR- AN INITIATIVE BY GITSians UNDER TDC !!!!
June 22, 2016

Posted by:

admin

Category:

News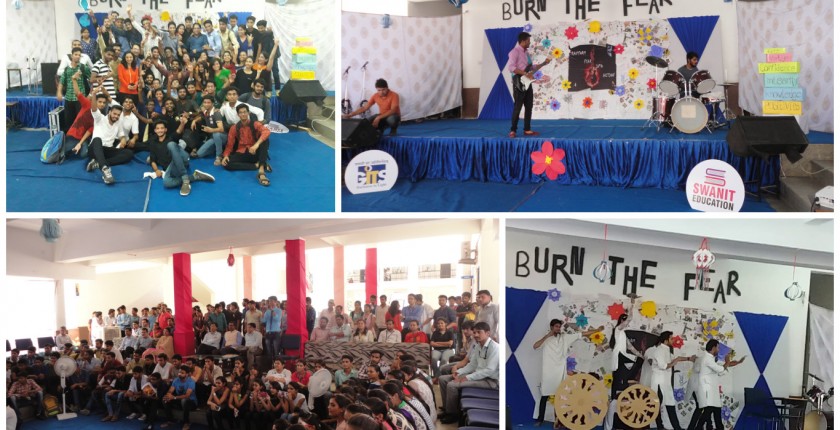 Final year students of Geetanjali Institute of Technical Studies, Dabok in association with SWANIT EDUCATION organised an event on Monday, 20th of June at 1 pm. This event was an initiative taken by the students to step out of their fear and explore what lies on the other side of the fear. Everything, starting from the planning of the event, organizing, managing and sending invites, all of it was done by the students.These students are undergoing in the training program conducted by GITS Technology Development Centers in which around 300 pre final year students participated.
The most amazing part of this event was that around 300 students pulled themselves out of their comfort zone and performed on stage for the first time by showing a CAN DO attitude and faith. Some of the students showcased some amazing dance forms, others displayed different problems of the society like treatment to the birth of girl child, old age homes, and political situation was also depicted by some of the groups.one of the stunning performances included passing of the knowledge of Mahabharata, where a group resided those verses of Gita which not many people are aware about, it was the one of lord Krishna's conversation with Duryodhana just before the yudha took place. This clearly stated that even today, the youth are still connected to their roots of dharma and its knowledge.
Principal Dr. M. Venu Gopala Rao was delighted with the event and stated that he was amazed to see students coming out so confident and fearless and stated that team SWANIT played a role in motivating students by guiding and channelizing them for a better tomorrow and these fearless performances from the students, have come after a successful training program conducted by the SWANIT EDUCATION Team.
June 2023
M
T
W
T
F
S
S
1
2
3
4
5
6
7
8
9
10
11
12
13
14
15
16
17
18
19
20
21
22
23
24
25
26
27
28
29
30