AN INTERNATIONAL SEMINAR ON MULTIDISCIPLINARY CHALLENGES & OPPORTUNITIES IN SMART NANO-GRIDS & V2G
April 24, 2018

Posted by:

admin

Category:

EE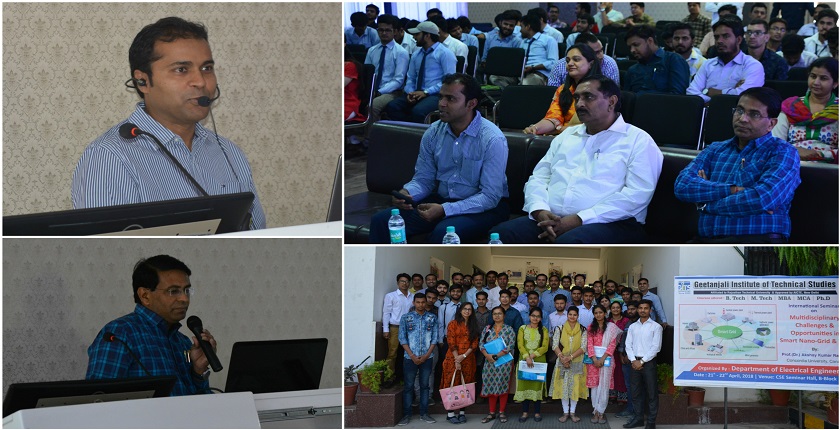 Department of Electrical Engineering, GITS, Udaipur has organized two-day International Seminar on Multidisciplinary Challenges & Opportunities in Smart Nano-grids & V 2 G.
GITS Director Dr. Vikas Misra conveyed that the main motive of the said seminar is too made known to forth coming Engineers regarding new technology and to introduce the audience to the Smart Nano-grids & V 2 G and its Opportunities. The two-day Seminar was conducted under the supervision of Dean Academics & HOD-EE Prof. Dr. P.C Bapna.
The seminar was addressed by Dr. Akshay Kumar Rathore (Professor in the Department of Electrical & Computer Engineering in Concordia University, Canada) and Prof. Dr. Naveen Jain (Assistant Professor, MPUAT Udaipur) to the students and faculty members.
They conveyed that a nano grid is different from a micro grid. A nano grid, however, would be "indifferent to whether a utility grid is present." Rather, it would be a mostly autonomous DC-based system that would digitally connect individual devices to one other, as well as to power generation and storage within the building.
The nano grid is conceptually similar to an automobile or aircraft, which both house their own isolated grid networks powered by batteries that can support electronics, lighting and internet communications. Uninterruptible power supplies also perform a similar function in buildings during grid disturbances. Vehicle-to-Grid (V2G) describes a system in which plug-in electric vehicles, such as electric cars (BEV), plug-in hybrids (PHEV) or hydrogen Fuel Cell Electric Vehicles (FCEV), communicate with the power grid to sell demand response services by either returning electricity to the grid or by throttling their charging rate. Vehicle-to-grid can be used with grid able vehicles, that is, plug-in electric vehicles (BEV and PHEV), with grid capacity.
On this occasion Mr. B L Jangir- GITS Finance Controller and Faculty member of GITS were present. The events were anchored by Ms. Anjali Dhabai andthe Vote of thanks was given by Dr. P.C. Bapna.
AN INTERNATIONAL SEMINAR ON MULTIDISCIPLINARY CHALLENGES & OPPORTUNITIES IN SMART NANO-GRIDS & V2G
September 2023
M
T
W
T
F
S
S
1
2
3
4
5
6
7
8
9
10
11
12
13
14
15
16
17
18
19
20
21
22
23
24
25
26
27
28
29
30