A TRAINING ON MATLAB
January 18, 2018

Posted by:

admin

Category:

EE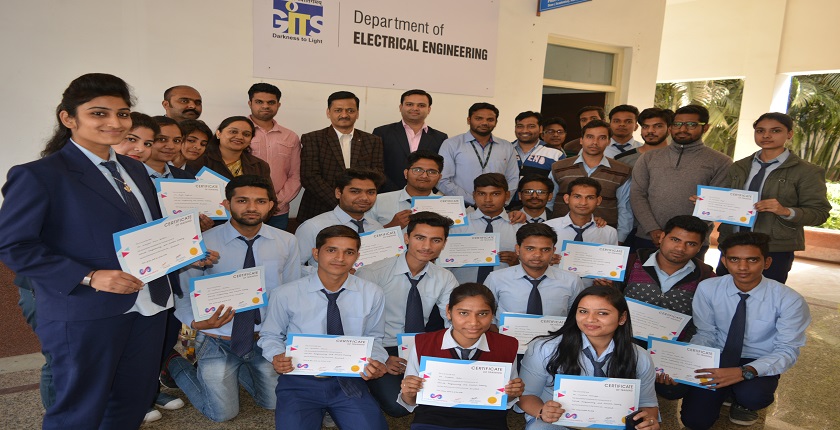 Department of Electrical Engineering, GITS, Udaipur has organized 30 days tranning on MATLAB.
GITS Director Dr. Vikas Misra conveyed that the main motive of the said tranning is to made known to forth coming Engineers regarding new technology and to introduce the audience to the Advanced MATLAB and its Opportunities. The 30 days tranning was conducted under the supervision of  Dr. P.C Bapna ,Dean Academics & HOD-EE Prof.
The tranning was conducted  by Endless Automatiom Pvt. Ltd.  In this tranning on MATLAB students learned about MATLAB; Matlab allows matrix manipulations, plotting of functions and data, implementation of algorithms, creation of user interfaces, and interfacing with programs written in other languages, including C, C++, C#, Java, Fortran and Python. Although MATLAB is intended primarily for numerical computing, an optional toolbox uses the MuPAD symbolic engine, allowing access to symbolic computing abilities. An additional package, Simulink, adds graphical multi-domain simulation and model-based design for dynamic and embedded systems. Tranning concluded with motive that it is the second step beyond mechanization in the scope industrialization.Total 45 students of electrical engineering have participated.
On this occasion Mr. B L Jangir- GITS Finance Controller and Faculty member of GITS were present. The events were anchored by Ms. Anjali Dhabai andthe Vote of thanks was given by Dr. P.C. Bapna.
September 2023
M
T
W
T
F
S
S
1
2
3
4
5
6
7
8
9
10
11
12
13
14
15
16
17
18
19
20
21
22
23
24
25
26
27
28
29
30