A NATIONAL WORKSHOP ON BIG DATA ANALYTICS USING MACHINE LEARNING
April 7, 2018

Posted by:

admin

Category:

CSE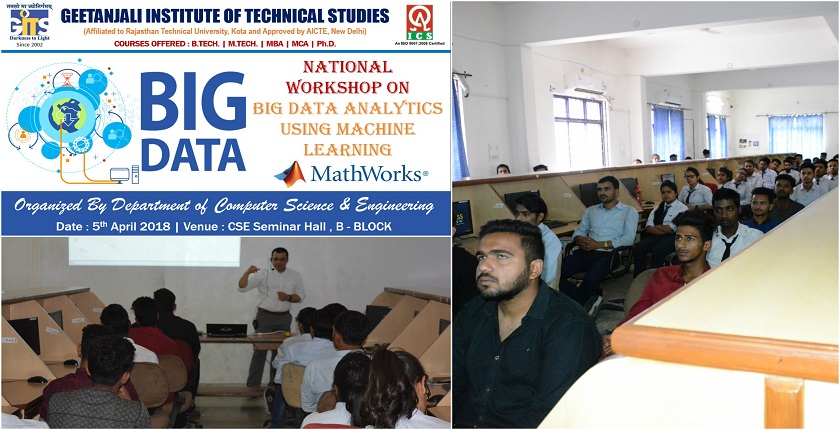 Big Data National Workshop went extraordinarily well with a strength of 80 students and 10 faculties. There are participations from institutes like SS, Sunrise, Sangam University and CTAE. The session has given the insights into the importance of Big Data and the way it effects on the predictions being made towards improving the business. Students of MTech CSE found it to be very much interesting as they are in the project stage and were very much eager use MATLAB as a tool for their data analytics work in their project. The research scholars of GITS who are pursuing their Ph.D. work under the supervision of Dr. Raghuveer on Data analytics for Agriculture and Health care got exposed to the technical advancements of MATLAB tool and its extended support for doing Machine learning based predictions.
Dr. Raghuveer, Dean R&D, HOD CSE highlighted the importance of critical thinking among the students. He highlighted the role of AI in cutting down repetitive jobs in the job market and advised the students to think of potential applications that can boost up the productivity of an organization and improve the quality of living.
The session ended with thanking the expert from MATLAB Mr. Amit Doshi, Senior Applications Engineer, MathWorks for having spent his valuable time in educating the students the importance of Analytics tools for prediction.
September 2023
M
T
W
T
F
S
S
1
2
3
4
5
6
7
8
9
10
11
12
13
14
15
16
17
18
19
20
21
22
23
24
25
26
27
28
29
30