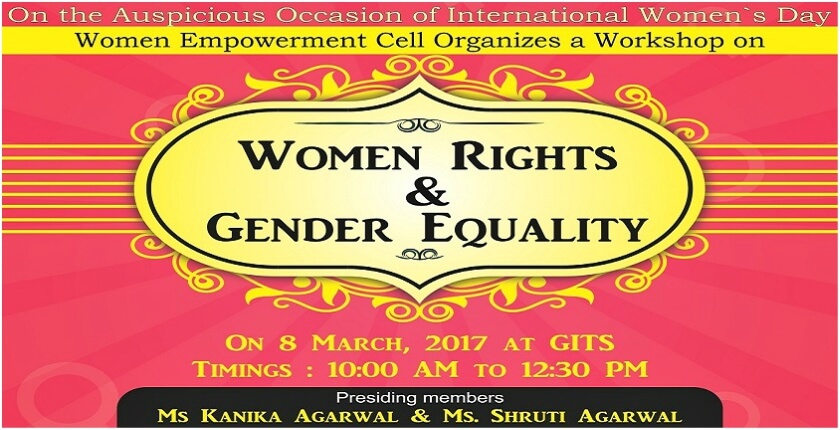 On the occasion of International Women's Day, GITS has organised a workshop on "Women's Right and Gender Equality" on 8th March 2017 from 10am to 1 pm.
The participation of women at all levels and the strengthening of the women's movement has never been so critical, working together with boys and men, to empower nations, build stronger economies and healthier societies.
The workshop will be inaugurated by the Chief Guest, Prof. Dr. Vijaylaxmi Chauhan, Head, Psychology Department & Dean Student Welfare, MLSU, a highly experienced person from the field of Psychology in our city. She will enlighten the students on gender roles and help us understand participation and roles of both women and men in societal and economic growth.
Lokesh Kumar Sharma, Secretary (Additional Chief Judicial Magistrate) will be conducting the workshop to educate female students and faculty members on the issue of gender equality and how to  overcome  barriers and biases based on gender, gender identity/expression, etc. in the work place. The workshop is designed to educate the students about women's rights, women security, equal opportunities at work, and ways to strengthen the social and economic infrastructure. For it is only thorough education and awareness that the gender wage gap can be eliminated.