MBA INDUCTION PROGRAMME – DAY 3: INTERNATIONAL SEMINAR ON DIGITALIZATION: PEOPLE, TECHNOLOGY AND SERVICES
August 5, 2019

Posted by:

admin

Category:

MBA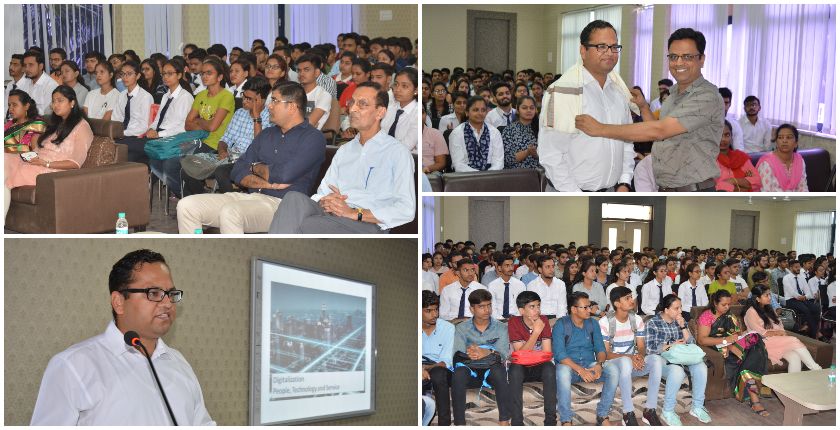 The informative and technological content based seminar was designed to educate the students in topics of digitization and digitalization, whilst shedding light on concepts of Smart City, Smart Home, and Smart Lights etc.
Mr. Kuldeep Choudhary explained that Digitization is not simply an ongoing practice but a necessity from the perspective of strategic governance to manage a vibrant corporate culture in any society. The smart way of getting information and taking decision from digital data are now leveraging on computational technique of Artificial Intelligence.
There are so many means and methods being adopted worldwide by governments, corporates, Non-profit organizations and general service providers with various forms of adoption like Smart City, Smartcard, Block – chain, IoT (Internet of things), Augmented Reality, Virtual Reality, Robotics etc. The aim of the seminar is to share the insights of various participants towards Digitalization and making of Digital India from the management perspective. This seminar acted as a major forum for the presentation of technological progress and research outcomes serving as a platform for exchanges between government, enterprises, academia and industry.
MBA INDUCTION PROGRAMME – DAY 3: INTERNATIONAL SEMINAR ON DIGITALIZATION: PEOPLE, TECHNOLOGY AND SERVICES
September 2023
M
T
W
T
F
S
S
1
2
3
4
5
6
7
8
9
10
11
12
13
14
15
16
17
18
19
20
21
22
23
24
25
26
27
28
29
30