23RD STUDENT MANAGEMENT GAMES (SMG, 2019) CONDUCTED IN DEPARTMENT OF MANAGEMENT STUDIES
September 19, 2019

Posted by:

admin

Category:

MBA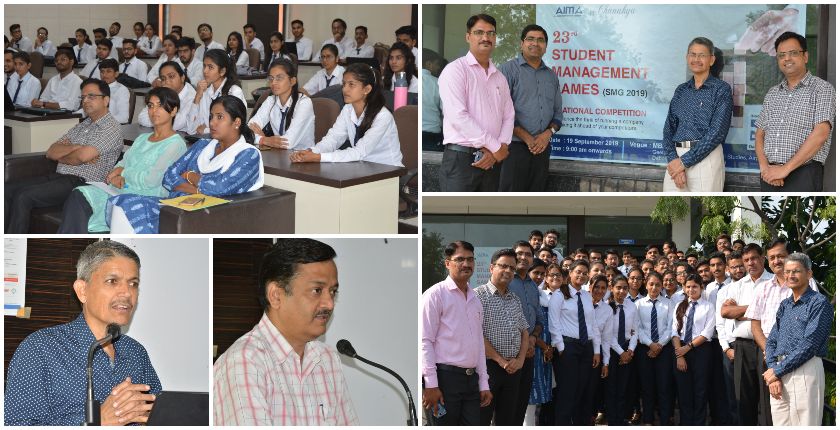 AIMA, the All India Management Association conducted the Preliminary round of Nation-wide 23rd Student Management Games (SMG, 2019) for the Management students of Geetanjali Institute of Technical Studies on 19th September, 2019. The event under the guidance and mentorship of Sh. S. C. Tyagi, Deputy Director, CMD, AIMA witnessed an enthusiastic participation of all First and Second Year students.
Dr. Dharmesh Motwani welcomed Sh. S. C. Tyagi, faculties and students of the department, following which Dr. Manish Sharma felicitated our guest for the day, with a bouquet of flowers.   Thereafter, Mr. Tyagi enlightened the students about the history of Student Management Games, the contemporary scenario and challenges in the field of management and industry, and how these Simulated Learning techniques have been instrumental in developing management acumen in the students and professionals.
The event was divided into two sessions, wherein 15 teams with 4 participants per group were given a Management Case Study to devise a plan for establishing a start-up. The case study covered all aspects of management viz. strategic planning, operations management, budgeting, financial management, marketing etc. and the students were required to present a complete business plan for the product category within the stipulated time-limit.
Mr. S.C. Tyagi was happy with the performance of the participants and in his concluding address he remarked that, "I was pleased with the motivation and involvement of the teams throughout the module. We were successful in getting them to think about marketing and operations strategy in a practical and integrated manner. Such games nurture in them enthusiasm about managing their own company and competing with others; the actual skills required in the workforce today."
The winners with the Best Plan, listed below, will be participating in the All India Preliminary Round at Pune  
Winners :  Team A (7)– Burhanuddin Moomin, Anshul Chelawat, Neeraj Sharma and Nitpal Singh Rathod
First Runner-up:   Team A (11) – Akansha Singh Rao, Sonali Jangid, Anamika Kothari and Shubham Nandwana
Second Runner-up: Team A (0) – Ashwani Joshi, Shubham Paliwal, Ritika Nagar and Dileep Ameta
Vote of Thanks was proposed by Prof. Vikas Mishra and Mr. BL Jangir presented Mr. S.C. Tyagi with a memento as a token of gratitude for conducting an invaluable learning programme for the management aspirants.  
23RD STUDENT MANAGEMENT GAMES (SMG, 2019) CONDUCTED IN DEPARTMENT OF MANAGEMENT STUDIES
December 2023
M
T
W
T
F
S
S
1
2
3
4
5
6
7
8
9
10
11
12
13
14
15
16
17
18
19
20
21
22
23
24
25
26
27
28
29
30
31